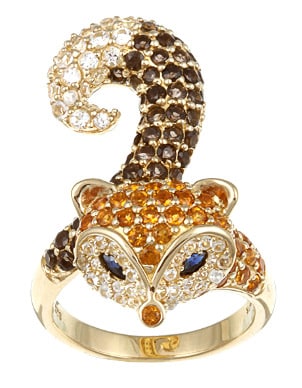 Citrine brings a range of yellow and gold hues to the jewelry world. This fabulous gemstone looks great when paired with neutrals or warm hues. To bring this light and bright stone to your wardrobe, choose a few citrine fashion rings in various trendy styles. You can wear citrine rings with grey jeans, crisp white tops, black trousers, or vintage pastel dresses. Citrine is a yellow type of quartz, and though it can hold its own against the most beautiful gemstones, it is not prohibitively overpriced like some jewelry can be. Citrine is the perfect gemstone for fashion rings that you wear casually; it will glow in any light and stylishly accessorize both modern and retro outfits.
Fashionable Citrine Rings:

Cocktail: The cocktail ring was very popular during the 1950s, but its current trendiness threatens to rewrite fashion history books. Gemstones are the best choices for these fashion rings, and citrines are affordable enough to accessorize cocktail-style gemstone rings with bold color and sparkle. The defining characteristic of a cocktail ring is a bold design or one large center stone. Cocktail citrine rings will capture everyone's attention with their large, glowing yellow gemstone and throw-back design.

Critters: Citrines remind many jewelry designers of small, glowing eyes in a dark forest. Many gemstone rings with animal themes feature citrine accents. Look for owls, squirrels, snakes, butterflies, and foxes with citrine embellishments depicting their eyes, noses, wings, and swishy tails. You can wear this fashion gemstone jewelry with jeans or dresses to bring a bit of the wild kingdom to your look.

Bands: Band-style rings are often reserved for wedding days and anniversaries, but this versatile jewelry style should be enjoyed by everyone. When looking for gemstone jewelry that you can wear with anything in your closet, consider citrine bands. Gold, silver, and platinum bands studded with citrines add a subtle touch of color and style to suits, dresses, and shorts. These citrine rings can be worn alone or layered with other rings for a trendy, textured aesthetic. Wear citrine bands with other colorful gemstone jewelry to achieve that fashionable, slightly overdone look.

Handmade: The earthy, bohemian feeling of handmade jewelry is a perfect complement to the citrine's warm color. Look for handmade citrine rings set in sterling silver, and don't be afraid to pile them on.
What Do You Want to Do Next?

Shop for Citrine Rings
Shop for Handmade Citrine Rings
See All Rings
See All Guides
Read More Jewelry Guides
Learn More about Rings