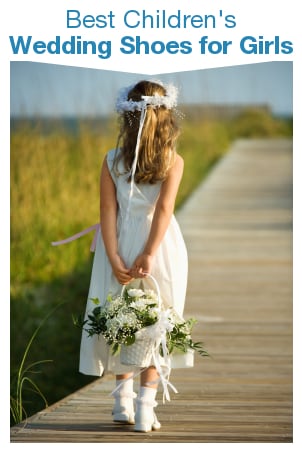 SHOP GIRL'S SHOES NOW >>
The big day is on its way, and the flower girls need cute shoes to wear while walking down the aisle. Finding formal shoes for children is harder than for adults, but there are still plenty of fun options to choose from when you're outfitting the littlest members of the wedding party. Consider the following styles of girls' shoes when you're shopping for little girls.
Girls' Wedding Shoes:

Classic dress shoe: Little girls' dress shoes are a lot like Mary Janes, with a rounded toe and single strap that buckles on the side. These are the perfect choice for weddings and are easy to find in all sizes, even for infants. Look for girls' dress shoes in white patent leather or white satin. They'll look pretty with the flower girl dresses, and the straps make it more likely that the shoes will stay on through the ceremony.

Summery sandals: For summer weddings, a cute choice for girls is a pretty pair of sandals. You can find sandals in casual and formal styles to suit the feel of your wedding. Look for fun pairs of sandals with flowers or jewels decorating the straps. Little girls will feel extra special in their pretty shoes, and you'll know they look good, too.

Pretty ballet flats: Simple, chic, and comfortable, ballet flats are a great choice for the wedding party, including the little girls. Flats are easy for little girls to walk in and easy to get on them when you're dressing them for the big day. Ballet flats with elastic backs will stay on better when she's walking down the aisle, and flats decorated with jewels, sequins, or bows will make her feel like a princess.

Subtle heel: For older girls, you may want to consider shoes with a small heel. Many dress shoes even come with a heel when you purchase bigger sizes. You'll want to make sure the heel is low and wide, so she can walk in them easily, and choose a style with a strap to help them stay on her feet. These low heels make the older girls in your bridal party feel a bit more important on the big day.

Metallics and colors: White is the classic color for weddings, but that doesn't mean you can't think outside the box for your bridal party. Give your wedding a bit of shine by choosing shoes for the flower girls and younger bridesmaids in gold or silver or add a pop of color with a pair of brightly colored shoes. You can even find satin shoes you can dye to match your wedding colors.

Shop Girl's Dress Shoes
Shop Girl's Slip-Ons
Shop All Girl's Shoes
See All Guides
Read More Wedding Guides
Learn More about Wedding Party
Published October 26, 2011
Updated January 19, 2015