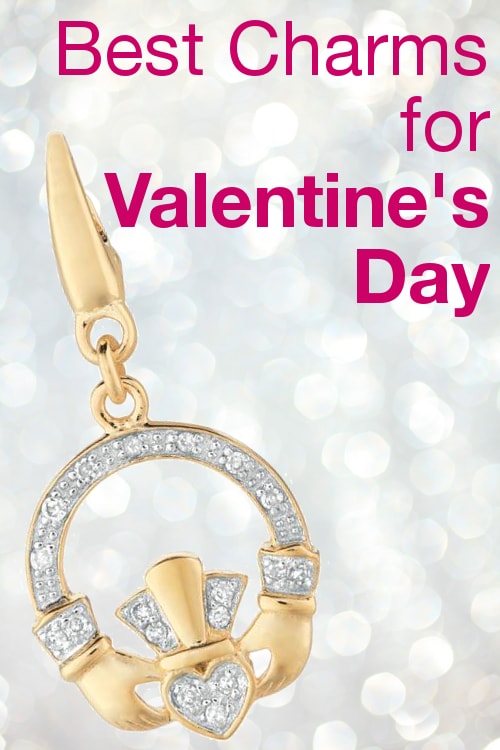 SHOP CHARMS & PINS NOW >>
This Valentine's Day, give a gift that is personal and symbolic. Your girlfriend or wife will truly appreciate receiving jewelry that seems to have been made just for her. Charms can be used to personalize a charm bracelet or any other type of jewelry. Consider these favorite charm styles when shopping for Valentine's Day gifts.
Charm Your Valentine:

Heart-shaped: The heart will always be the symbol of Valentine's Day. Don't hesitate to surprise her with a heart-shaped charm or two this year. Gold charms offer a classic look, while glass charms bring color to a modern bracelet. Diamonds or crystals add sparkle to the design. A heart-shaped charm is always a romantic and thoughtful jewelry gift.

Diamond-studded: Diamonds are ideal Valentine's Day gifts. Rather than giving cookie-cutter diamond jewelry this year, choose diamond-studded charms. Charms are available in almost every style imaginable, allowing you to show her how much you appreciate her unique qualities and interests. If you took a special European vacation together recently, give a diamond-studded charm shaped like the Eiffel Tower. If she loves sports, choose diamond charms shaped like golf bags, tennis racquets, and baseball bats as gifts.

Initials: Few things are as personal as your initials. You can monogram towels, jewelry boxes, and even wedding cakes. Initial charms are perfect for personalizing a charm bracelet, zipper pull or necklace. You can give charms that represent her initials and include your initials in the gift, too.

Birthstone: Her birthstone is unique to her; it represents the month in which she was born. Each month has at least one birthstone, and some months have several options. If your girlfriend was born in July, surprise her with a heart-shaped charm that is decorated in bright red rubies. For December babies, blue topaz or turquoise charms are the perfect Valentine's Day gift. Any woman can appreciate this personalized gift and the effort you put into learning about her birthstone.

Enamel: The bright colors and playful designs of enamel charms makes them perfect for telling a story. Find four or five enamel charms that tell the story of how you met, remind you of your first date, or show other meaningful moments in your life together.
Charm Gifting Tip:

Charms can decorate zipper pulls and other things, but it's a good idea to include a charm bracelet or charm necklace with the gift if she doesn't already have one.

Shop Charms & Pins
Shop Valentine's Day Gifts
Find the Perfect Gift in Our Gift Center
See All Guides
Read More Holiday Guides
Get More Valentine's Day Gift Ideas
Published January 5, 2011
Updated January 6, 2015