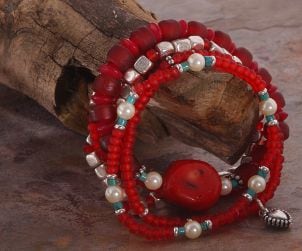 Join your friends and everyone you know by indulging in charms and beaded charm bracelets. Beaded charm jewelry is the most modern way to personalize your look and project your interests. Beaded charm bracelets use beads, spacers and charms to offer you endless jewelry customizing options. You start with a simple silver or gold bracelet, then add beads in your favorite colors and charms that represent your lifestyle, your accomplishments or your hobbies. Celebrating these signature moments will help you create a piece of jewelry that is truly unique. You can rework these charm bracelets as often as you like and collect unique beads and charms for totally new jewelry looks. Looking for charm bracelet ideas? Consider these favorite beaded jewelry charms.
Beaded Bracelet Charm Options:

Try some glass: Glass beads and charms are a favorite of beaded charm jewelry collectors. Murano glass beads and charms are especially popular on beaded bracelets and charm jewelry. Murano glass beads are produced on the Venetian island of the same name and offer a very unique appearance. The complicated technique produces brightly colored beads and charms with variations in texture that often give the beads an icy or scratched appearance. Layer these glass beads with glass charms shaped like hearts, stars and small animals for beaded bracelets that are both elegant and unique.

Charm a holiday: Celebrate each holiday with a new charm for your beaded jewelry. Tiny gold Christmas trees, painted silver eggs, sterling silver Star of David charms and dangling black cats will bring new charm to your bracelets.

Mark a milestone: The important moments in your life deserve to be marked with charm jewelry. Tiny dangling wedding cake charms fit perfectly alongside small college degree charms and petite baby bootie charms. There is a pretty charm to commemorate every special time and accomplishment in your life.

Just be yourself: Charms are meant to be projections of your personality. Look for charms shaped like landmarks in your favorite cities around the world. Use animal charms to showcase your love for your pets. Choose lipstick, perfume, handbag and shoe charms to create a feminine charm bracelet, or select basketball, tent, beer bottle and golf bag charms to show your sporty side.

Buy Charms and Pins
Back to Guides Directory