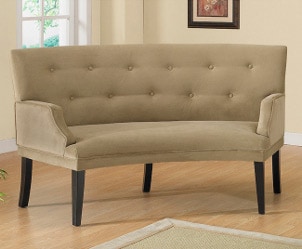 Things You Need:
Vacuum
Laundry detergent
Rag or sponge
Steam cleaner
Warm water
Sheet
Your living room furniture sees a lot of wear and tear, especially your sofas and loveseats. All the years, visitors and parties your couch has been through have probably turned it from brand new to dingy. However, there is a way to reverse the abuse your couch has been through and make it look brand new again. When you take care of your living room furniture, it can last for years. Keep reading below for tips on how to best care for an upholstered couch.
Caring for an Upholstered Couch:

Vacuum your upholstered couch regularly. This is an important step to take before you clean your couches, sofas and loveseats. Vacuuming your upholstered couch this gets rid of dust and dirt instead of letting it grind further into the couch's fabric. In addition to vacuuming the couch's body, be sure to remove each cushion and thoroughly vacuum them as well. Using a vacuum on your couch helps to keep the fabric from becoming grubby and turning dark over time. If you leave the dirt and dust on your couch and then try to rub it down with a wet rag, you may end up soaking the dirt deeper into the fabric.

Keep food and drink away from your upholstered couch. This is mainly a preventative measure. Your couch will last much longer if you take steps to protect it from spills and stains. However, accidents do happen, so if something does get spilled on your couch, be sure to treat the spot right away before it gets a chance to soak into the fabric fibers.

Clean your upholstered fabric. Never use bleach to remove a stain on your upholstered couch. Using bleach on your upholstered couch cushion may remove stains, but it will also remove the color of the fabric as well, leaving your couch looking blotchy. If you happen to get a stain on your couch, then most mild laundry detergent should remove the stain; however, any type of cleaner should be tested out in a hidden or discreet corner before you use it on the stain just to make sure it doesn't make the colors of your fabric run or fade. Upholstered fabric is usually easy to clean. Mix the laundry detergent with warm water and then use a clean rag or sponge to blot the stain. It's important to remember to avoid rubbing the stain. Some stains spread when rubbed, which will just make more work for you.

Keep your upholstered couch covered. To protect your living room furniture from dust and dirt, be sure you use a sheet or couch cover to keep it clean when it's not in use -- when you're on vacation, for example. You'll still need to perform regular maintenance on your couch after you uncover it, but this preventative measure will have protected the couch from excess dust and dirt.

Buy Sofas and Loveseats
Back to Guides Directory