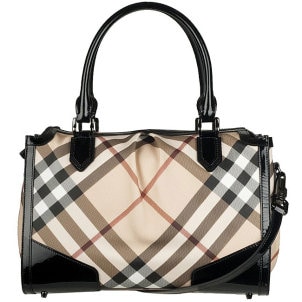 The holidays are a season for giving, so give the best with Burberry. When you're shopping for holiday gifts, the Burberry design house has everything from clothing to accessories to make the holidays cheery and bright. Whether you're looking for the perfect gift to place under the tree Christmas morning or something special to give on the first night of Hanukkah, the following tips can help you find the perfect Burberry gifts for this holiday season.
Best Burberry Gifts for Her:

Perfume: The perfect stocking stuffer or simple gift for your mother, girlfriend or sister, Burberry perfume adds a touch of luxury to the holidays. Choose an airy daytime scent, or for that special someone, a romantic evening perfume. Burberry perfume is a great way to give a designer gift without spending too much. You can also add a bottle of Burberry perfume to a larger gift, or pair it with a bath set for a relaxing holiday gift.

Shoes and Boots: She'll be thrilled to unwrap a box of chic Burberry shoes or boots this holiday season. From chic flats and heels to rain and cold weather boots, Burberry footwear adds style to any outfit. Before you start shopping for Burberry footwear, think about her wardrobe. Does she dress up for work or like to go out for the evenings? If so, buy her a chic pair of Burberry heels. If her wardrobe is more casual, a pair of ballet flats or boots from Burberry will be perfect.

Chic accessories: Nothing finishes off an outfit like designer Burberry accessories. Give her a chic pair of Burberry sunglasses or a warm Burberry scarf this year. For the ultimate holiday gift, buy a coveted Burberry handbag for under the tree. She'll love wearing the trademark tartan plaid throughout the year.
Best Burberry Gifts for Him:

Cologne and aftershave: Burberry colognes and aftershaves are great holiday gifts for the man in your life. Give him a bottle of cologne, an aftershave or both. Fragrance bottles are the perfect size to stuff a stocking or for that last little gift under the tree.

Timekeepers: A fine watch is a classic men's holiday gift, and when it's Burberry, you know he'll be impressed. Choose a more refined Burberry watch for him to wear to the office, business dinners or a night out, or a more casual Burberry watch for him to wear on the weekends.

Comfortable robes: Comfortable days at home are just as much a part of the holidays as giving gifts. Why not combine the two by giving him a comfortable, classy Burberry robe? A fine designer robe is just as much gentleman as it is relaxed. He'll love unwrapping presents or sipping wine in a soft, luxurious robe from Burberry.

Buy Burberry Gifts
Back to Guides Directory