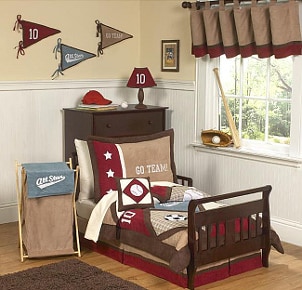 For a gift that's practical and fun, take a look at boys' bedding. No matter what age the intended recipient is, he'll love getting a present that helps him define his space and express his interests. A bedroom can be haven, so help him create a place that will become his own personal sanctuary with boys' bedding sets. This guide will explore the most popular kids' bedding styles to help you find the best boys bedding to give as a gift.
Top Boys' Bedding for Gifts:

Give the gift of great design. If you're shopping for a boy who is into making a fashion statement or likes the finer things in life, surprise him with a sophisticated designer bed set. Boys' designer bedding works best for older boys and will help create a grown-up bedroom perfect for lounging around with friends. Choose boys' designer bedding in muted tones with minimal print for a boys' bedding set that will grow with him and carry him into adulthood.

Score big with sports themes. For the sports fanatic, nothing will delight him more than boys' sports bedding. From football to soccer, sports-themed bedding is whimsical and fun and can be more age-appropriate for older boys than cartoon-themed bedding. Boys' sports bedding comes in a variety of styles, so if the boy you're shopping for is passionate about one sport in particular, it's easy to design a room around that theme. If he goes crazy for multiple sports, try a more ambiguous sports bed set that features sports pennants or multiple sports.

Personalize with character bedding. If he has a favorite movie, television show or book, look for bedding that prominently features his favorite characters. Boys' character bedding will transform his bedroom into a fun space that will foster his creativity and surround him with the things he loves most. Although chances are that he may outgrow this type of bedding, younger boys will treasure the chance to fall asleep with their beloved characters each night.

Cozy up with quilt sets. Boys' quilt sets can be whimsical and themed or cozy and neutral, but either way they add a dose of warmth to any boy's room. For a complete room transformation, give him a boys' quilt set that includes a quilt and decorative pillow shams.

Buy Kids' Bedding
Back to Guides Directory