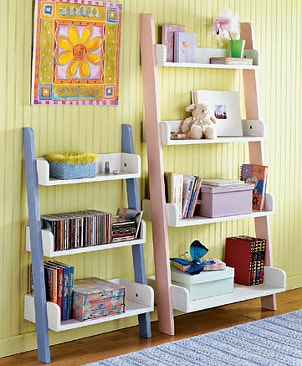 Children's bookshelves and other kids' storage, as a rule, should be low to the ground. Furniture tip-overs have accounted for almost 15,000 childhood accidents each year from 1990 to 2007, according to the Nationwide Children's Hospital in Columbus, Ohio. Children often reach for items on the top of bookshelves, causing tip-overs. With low-to-the-ground kids' storage, children can easily reach their favorite books without parents worrying about the furniture seriously injuring their child.
Kid's Bookshelves:

Half-shelf: This type kids' furniture is perfect for young children. Half-shelves usually contain two or three levels and are no higher than 3 feet off the ground, making them an ideal place to put your child's favorite books and toys. The half-shelves come in a variety of styles, materials and prices. Some half-shelves can even be custom-painted in order to better match your child's room.

Revolving bookcase: Revolving bookcases have cut-outs on several sides where children can store books. Since they can be rotated, they can maximize the furniture's storage capacity. Revolving bookcases that are made specifically for children are usually made of lightweight wood and are short (typically no taller than 3 feet) to prevent them from tipping over. Some are also made in a specific theme to match the style of your child's room.

Storage bench: Storage benches can be used for both storage and seating. These containers are a great option for organizing children's books. For smaller children who are not tall enough to sit on the bench, place books on the seat and use it as a shelf. These pieces of bedroom furniture are low enough to the ground that even toddlers can grab their favorite books with ease. As your child grows, you can show her how to put her books away under the seat, which lifts up to reveal a storage chest.

Buy Kids' Storage
Back to Guides Directory