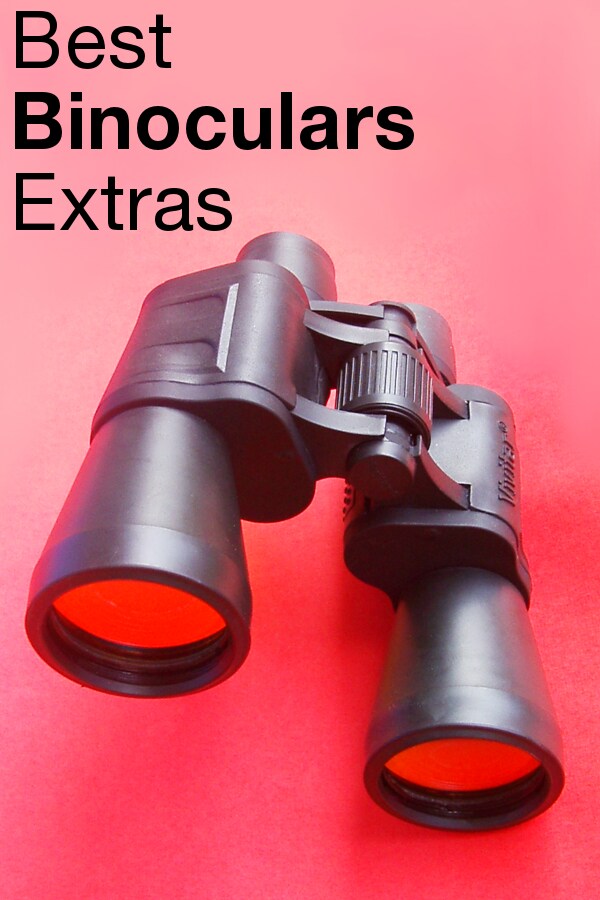 SHOP BINOCULARS NOW >>
If you have read our binoculars buying guide, you know what to look for when you're shopping. If you'd like extra features in your binoculars that make them truly special, then consider these. You can often find great discount binoculars with plenty of extras by shopping online. Whether you need bird-watching binoculars, a monocular, or some night vision binoculars, you'll appreciate a few extra features.
Best Features of Binoculars:

Rubber armor: Rubber coating on the exterior of binoculars is a very popular feature. Rubber armor protects binoculars from bumps and provides a better grip. A very large number of damaged binoculars got that way from being dropped or banged against something during a hike or other outdoor activity. With rubber armor, you have a lot less to worry about.

Fog resistance: Fog-proof binoculars are filled with nitrogen gas to resist fogging, making them perfect for use in damp environments, such as on a boat. If you ever plan on being in a humid area, like if you're watching tropical birds, fog-proof binoculars will make your job much easier.

Lens coatings: These are thin layers of chemicals applied to the glass surfaces in binoculars. Coatings reduce glare and light loss. The number of surfaces coated is specified at four different levels.

Lens Coating Levels:

Coated lenses are the basic, least expensive binoculars. Only some of the glass surfaces are coated.

Fully coated lenses are more helpful than coated lenses and are good for general use binoculars. All of the glass surfaces have been coated.

Multicoated lenses are better for night-use because they will let more light in. Some of the glass surfaces have more than one coat of chemicals.

Fully multicoated lenses will give you the brightest, clearest images. All of the glass surfaces have multiple coats of chemicals on both sides.

Zoom: This allows you to change the magnification of the binoculars when you need just a little closer view. Some zoom binoculars only range between about 7x and 12x, while others range as much as 10x to 30x. Zoom binoculars are often not as durable as regular binoculars because they have more delicate moving parts, but they offer more options for casual users.

Shop Binoculars
Shop Night Vision Optics
Shop All Optics
See All Guides
Read More Sports & Fitness Guides
Learn More about Outdoors
Published August 10, 2010
Updated February 17, 2015