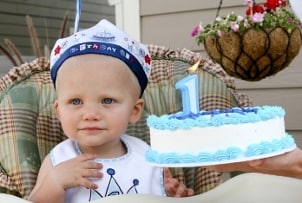 When someone you know has a new baby, it is a grand event, and the newborn baby is celebrated excitedly. Baby showers and visiting the baby in the hospital or at home are some of the events where baby gifts abound. Baby gear and baby products quickly fill the parents' home and the newborn baby's nursery. When you are shopping for new baby gifts, you might consider shopping for bibs and burp cloths. Bibs and burp cloths are essential baby accessories, and they can also be a lot of fun. Novelty bibs, personalized burp cloths and other adorable baby accessories will delight the new parents and also come in handy when life with baby gets going.
Perfect Baby Bib Gifts:

Comical: Baby products that make the parents laugh will always be appreciated, and funny bibs make great baby gifts. You can choose from bibs with sayings about life with baby, funny pictures and even classic comics. Tough, masculine baby bibs are also comical because they contrast with a baby's sweet disposition. Choose funny baby gear that will match the parents' sense of humor and lifestyle.

Sweet: Baby gifts that make everyone at the shower coo are always fun for the mom-to-be to open. Baby bibs with adorable sayings and images will brighten everyday life with the little one and tell the world about your precious child. You can pair a set of adorable baby bibs and burp cloths with a receiving blanket and a cute toy or add baby bibs and burp cloths to a gift basket.

Personalized: Baby bibs and burp cloths with the baby's name or initials or a cute nickname or phrase are a lot of fun to give as gifts. You can purchase personalized bibs directly from the retailer or have cute baby bibs personalized after buying them. You might even consider personalizing baby bibs yourself.

Buy Bibs and Burp Cloths
Back to Guides Directory