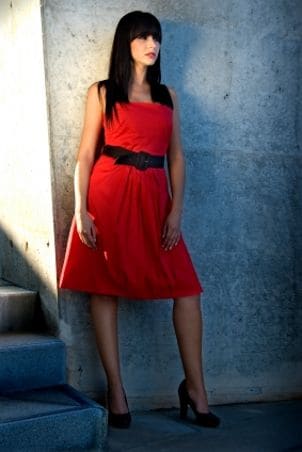 Belts can add color, style and shape to any outfit. Whether you want a simple black belt for work or a wide belt to define your waist, this article will help you find the best belts for your shape and for your style.
Wearing Belts with Dresses:

Wide belts: Wide belts, worn at your natural waistline, just below your ribcage, will make your waist look smaller and will give you a curvy silhouette. For the most slimming effect, choose a wide belt you can cinch around your waist. Choose one in an animal pattern, such as faux crocodile or snakeskin, for a chic look. Find a belt made of vinyl, and the smooth texture will draw attention to your waist. Light colors, such as white, light blue or lavender, will give you the illusion of curves if you have a slight frame.

Skinny belts: Skinny belts look great slung low on the hips, especially over stretchy jersey dresses, or tightly wrapped around the natural waist. Add shape and color to voluminous dresses with skinny belts in contrasting colors. A black dress looks great with a bright purple belt, and a white or light-colored top and skirt look crisp with a black skinny belt. For a retro look, wear a white '50s-style sheath or ball gown with a black skinny belt around your waist.

Corset belts: To slim any dress and emphasize your curves, buy a corset belt that matches your wardrobe. Known for its ultra-wide shape and tight fit, a corset belt will nip in your waist and also slim your stomach. Try a belt with two or more buckles and wear it over a floral or geometric dress. Get more milage out of it by choosing one that you can also wear over blouses and your favorite shirts.

Buy Belts
Back to Guides Directory