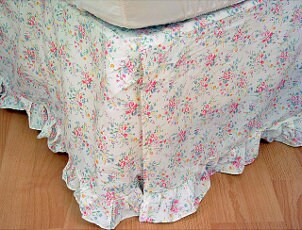 For anyone interested in making their bedroom truly shine, a bedskirt is a must-have item. These stylish pieces of bedding can give any bed a massive aesthetic boost. Bedskirts provide a wide variety of functions in the bedroom. Some people love these bedding accessories for their classy style. Others enjoy the fact that bedskirts are perfect for hiding under-bed storage. They can quickly turn a bedroom from being a mess to being a masterpiece. If you are in the market for something that will complement your bed and bedroom, take a look at the article below to learn about the best bedskirts.
Best Bedskirt Styles:

Traditional: When many people think of bedskirts, they think of traditional bedrooms. It's only natural, as bedskirts definitely have a place in traditional bedrooms with classic styling. If you have a bedroom that you want to give an elegant feel to, bedskirts are essential accessories. Traditional bedskirts are often made from beautiful lace in shades of white. By adding a bedskirt crafted from lace to your bed, you are guaranteed to increase the style and opulence in your room.

Contemporary: While bedskirts are often considered old-fashioned and traditional, there are plenty of options for people seeking modern, chic bedskirts. Contemporary bedskirts often offer more subdued and minimalistic style than their traditional counterparts. Unlike traditional bedskirts, contemporary bedskirts offer less frilly designs. Rather, they usually are made from solid, flat fabrics in solid, bold colors. It's possible to find contemporary bedskirts in a whole rainbow of colors, from flashy red to cool sea green.

Simple: People that want their bedskirts to play a supporting role in their bedroom should turn to those with simple styles and designs. Simple bedskirts aren't flashy or fancy, but they can give any bedroom an extra bit of understated class. Many people pick bedskirts with simple styling for their ability to hide under-bed clutter. It's a breeze to find simple bedskirts in a huge assortment of colors and materials, so you can count on finding one for your space.

Ornate: Bedskirts with ornate, opulent designs can easily steal the show in any bedroom. These bedskirts are created to look as fancy as possible. If your bed is looking a little shabby, ornate bedskirts made from lace, silk or velvet may be just what it needs. Such bedskirts are available in a wide variety of materials and colors, making them easy to find for any bed.

Buy Bedskirts
Back to Guides Directory