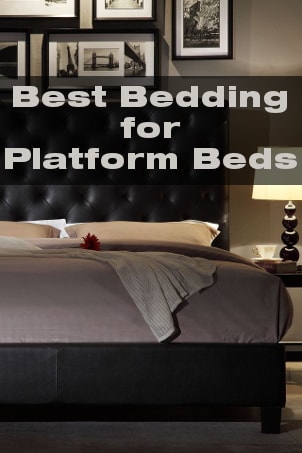 SHOP BEDROOM NOW >>
When you buy a new platform bed, you'll need the right bedding to make it a cozy place to sleep. Here are a few ideas on how to make your bed a cozy, comfortable place to sleep as well a something beautiful to look at during the day.
Platform Bed Bedding:

Mattress: You'll need a mattress to place on your new platform bed first of all, and a memory foam mattress is one of the best choices. Not only are they incredibly comfortable and supportive, but memory foam mattresses are also perfectly suited for placing on the platform since you don't need to use a box spring.

Comforter: The comforter is going to be the main design element for most platform beds. Once you spread it over your platform bed frame, it will be the first thing any visitors to your room see and will ultimately dictate the personality of your bedroom. The color will depend on the color and style of your platform bed frame as well as your room decor. Make sure to choose a comforter that is as heavy or light as your climate requires.

Pillows: Pillows are a great way to make platform beds stand out. Get two matching pillows that harmonize with the comforter. Then, add one smaller pillow in the middle to accent the color scheme. If your main pillows and the comforter are brown, get an accent pillow in tan or even orange. If your color scheme is black and white, get an accent pillow in red or yellow to spice it up without overpowering the decor. For king or queen platform beds, four or five pillows can add a comfortable look that will make you cherish the time you spend in bed. For smaller twin platform beds or a minimalist style, two or three pillows can really emphasize the colors you've chosen.

Sheets: You can often buy sheets in a set with a comforter for platform beds. However, if you are adventurous, you can mix and match your sheets. Having sheets in a color or shade lighter than your comforter creates an excellent contrast that makes both stand out. If your comforter is thin enough, fold it over at the top to show off the top of your sheets. Get sheets with similar colors as your comforter, but in stripes or another design against a light tan, grey, or white.

Extra blanket: For that last final touch, throw an extra blanket on the bottom of platform beds to accent the other colors. Fold your blanket so it is long, hanging off each side of the platform bed frame. Pick a color that is either slightly lighter or darker than the color of your comforter. In many situations a white, black, or red blanket will look great folded across a platform bed. Not only will it make the rest of your bedding pop, it will be handy to have on extra-cold nights.

Shop Bedding
Shop Platform Beds
Shop All Bedroom
See All Guides
Read More Bedding Guides
Get More Bedding Tips