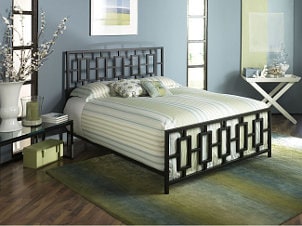 When furnishing the master bedroom, don't cut any corners on your bed frame. After all, you'll probably have the same bed frame in your master bedroom for years to come. Instead of making do with any old bed offered by discount furniture stores, choose one that you'll be happy to have in your master bedroom for years to come. But more than just choosing between a queen bed frame, king size bed or California king bed, there are a variety of bed frames you can choose from. Before you make a hasty decision, consider these ideas on the best bed frames for your master bedroom.
Bed Frames for the Master Bedroom:

Canopy bed frame: If you like an old-fashioned look, canopy beds are the perfect bed for your master bedroom. Whether you hang curtains from the canopy or not, canopy beds certainly have a powerful presence in a bedroom. Once you are sleeping in your new canopy bed, you can't help but feel like royalty.

Storage bed frame: If you are trying to save on space, storage beds can't be beat. Most storage beds come with drawers built into the bed frame. Others have built-in storage areas under the mattress. Either way, storage beds will give you a handy location to store extra odds and ends. Some storage bed frames even have enough storage space to replace a dresser altogether.

Sleigh bed frame: A classy wood sleigh bed frame immediately brings an air of dignity into a room. With the tall headboard and slightly shorter footboard, a sleigh bed has a distinguished style. Especially on larger sized bed frames, a sleigh bed can be very impressive. Plus, if you enjoy sitting up in bed and reading, the tall headboard can be quite functional as well as stylish.

Platform bed frame: Although storage beds are technically platform beds with a twist, a true platform bed has no storage and generally sports a minimalist style. A platform bed eliminates the need for a box spring if you like to keep things simple. If you like going for a modern look, a platform bed frame might be the perfect fit in your master bedroom.

Buy Beds
Back to Guides Directory