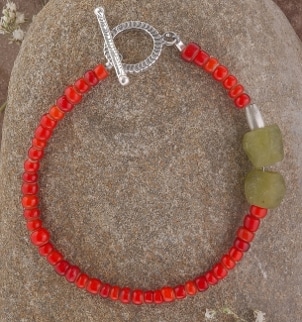 Jewelry is an investment, and choosing the bracelets that will fit right into your wardrobe and be worn regularly is important. Beaded bracelets are incredibly versatile. You can wear a bead bracelet with jeans, a business suit, a cocktail dress or a wedding gown. Bead bracelets come in many different colors, styles and sizes. Beads can be layered with other bracelets and pieces of jewelry for a uniquely textured fashion. Add a piece of beautiful beaded jewelry to your jewelry box for quick and easy accessorizing. There are many different types of beaded bracelets to choose from, and each offers a slightly different jewelry look. Use our tips to choose the best bead jewelry for your collection.
Beautiful Beaded Bracelets:

Gemstone: Many different kinds of gemstones can be made into beads, including onyx, jade, coral, turquoise, garnet and carnelian. Pearls are also perfectly shaped and ideally sized for beaded jewelry. Consider buying a beaded bracelet featuring your birthstone gem or surprise a loved one with a pearl and onyx beaded bracelet on a special occasion. Gemstone bead jewelry dresses up any outfit day or night.

Metal: Metal beaded bracelets are sleek and modern and add a touch of sparkle and shine to a variety of ensembles. Beads made of gold, silver, platinum and titanium are common and can be strung onto bracelets all on their own or with beads made of gemstones, glass or crystal. Wear a metal beaded bracelet with a pair of contemporary, sexy jeans or accessorize a nice crisp shirt dress.

Charm: Charm bracelets are trendy and fun, and beaded bracelets with dangling charms are especially dressy and unique. Purchase a basic beaded bracelet and add your own charms for a fun and personal piece of jewelry. Beaded bracelets with beautiful gemstone charms are also available and are fabulous statement pieces.

Handmade: Handmade beaded bracelets are gorgeous, and many of them incorporate unusual nature-themed styles. Accessorize a pair of cargo khakis and a white camp shirt with a handmade beaded bracelet decorated with wooden beads and shells. Handmade beaded bracelets are also often culturally and religiously significant; choose the handmade beaded jewelry that speaks to you.

Buy Beaded Bracelets
Back to Guides Directory