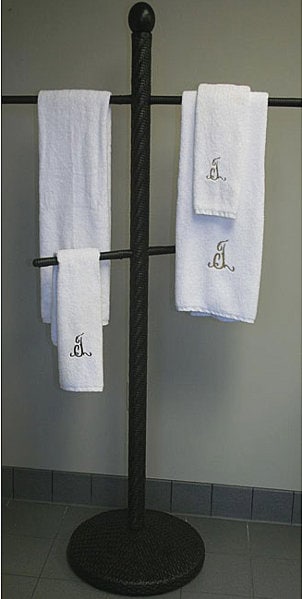 Small bathrooms need bathtub accessories that help create storage and blend seamlessly with existing bath decor. Whether you dwell in a tiny apartment or are looking to decorate a cramped half-bath, bath accessories are key to creating a functional space that is clutter-free and still has style. Keep reading to learn a few tips for coping with tiny square footage and to discover the best bathtub accessories for small bathrooms.
Small Bathroom Essentials:

Expand your storage space. When you're living in cramped quarters, you can always use more storage space. If installing a new medicine cabinet or adding extra wall-mounted shelving is out of the question, try a handy bathtub shelf. When hooked on either side of your tub, bathtub caddies create a makeshift shelf that can be used to store soap and razors. As an added bonus, a bathtub caddy turns your bath into a spa-like experience, no matter what size your bathroom is.

Utilize every inch. Regular shelves can look bulky in small bathrooms, so corner shelves are often the perfect bath accessory option for adding storage without taking up valuable bathroom real estate. Corner shelving units made especially for bathrooms will keep your bath decor looking classy while adding an extra spot to store toiletries and bath linens. For bathrooms that feature a standing shower rather than a bathtub, look for smaller tension-mounted corner shelves that can be placed in your shower to neatly store shampoo and body wash.

Double up. Small bathrooms often lack the space needed to store bulky towels. If bath linen storage is giving you a headache, try double towel bars. Double towel bars take up only an extra few inches, but double the storage space in your bathroom. Look for wall-mounted or free-standing double towel rods to discreetly store towels when you don't have a linen closet.

Multiply your mirrors. If you share a bathroom, one mirror won't cut it during busy mornings. Small bathrooms can feel even smaller when you're trying to get ready in a hurry, so cut down on stress with a shower mirror. Shower mirrors can be hung over your shower head and provide a handy spot for shaving or washing your face. Fog-free shower mirrors free up the bathroom vanity, making it easier for two people to use a small bathroom. These double-duty bathtub accessories will ensure that no space is wasted, whatever size bathroom you have.

Buy Bath Accessories
Back to Guides Directory