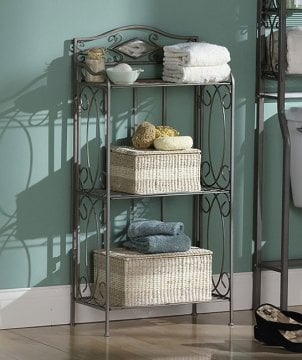 Whether you're designing a space for a teenager or a young adult about to enter college, you must make special considerations when choosing bathroom furniture for teens. Teenagers typically require more privacy and time than younger children, so the space and bathroom furniture should reflect their changing needs. In addition, teenagers have distinct preferences and senses of style, so plan bathroom decor in tandem with the teens in question. Take a look below for some of the best bathroom ideas for teenagers.
Bathroom Decor Ideas:

Furniture: Bathroom furnishings rarely stray far beyond the basics of a vanity, sink, tub, shower and toilet. However, within this narrow range reside a lot of options. Your primary goal in designing and decorating a teenager's bathroom consists of streamlining the space and maximizing its functionality. Forget stylish pedestal sinks and glass-walled showers that leave little space for hidden storage. Drawers, niches, shelves and cupboards provide a variety of spots for teenagers to tuck bathroom supplies. Make the look fresh and fun by adding brightly colored boxes, containers or baskets on open shelves. Modernize furniture finishes by using stencils to paint a decorative trim. Switch out doorknobs, drawer pulls, faucets and other bathroom hardware for pieces that reflect your teenager's style.

Palettes and finishes: A cool new bathroom palette can make a teenager feel as if she has a completely new bathroom. Go antique white for a neutral backdrop, or add some exotic Indian style with poppy orange trimmed with fuchsia. Lavender and chartreuse add a contemporary glow, while sunny yellow functions as a cheerful neutral. The palette of slate blue and silver has Hollywood glamour. A wall mural in the bathroom can open up the space dramatically. Try a packaged mural featuring a nature or water scene to set a decor theme, or use wall decals to create a more custom look.

Accessories: Accessorize your teenager's bathroom with her preferences in mind. After all, accessories tend to be affordable and small, making them easy to switch when your teenager's tastes change. Cover the overhead bulb with a colorful lantern and string party lights in the window for a festive feeling. Outfit the shower area with a brightly designed shower curtain or purchase one that has pockets for tucking in all manner of bath supplies.

Buy Bathroom Furniture
Back to Guides Directory