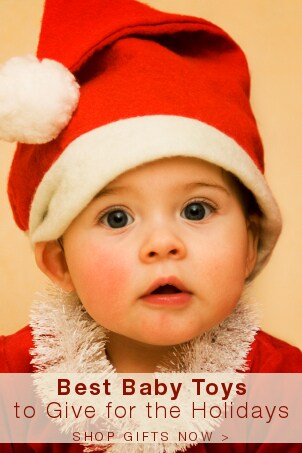 One of the best parts of the holidays is finding the perfect gift, especially when it's for a baby's first Christmas. Whether you're looking for something special for your own baby or interested in giving a gift to friends and family for their babies, baby toys are the perfect holiday gift to give. There are lots of varieties of baby toys, each with a different purpose. These tips can help you narrow down your search and choose the best baby gifts.
Best Holiday Baby Toys:

Stuffed animals: There's hardly a cuter baby toy than a stuffed animal. They're adorable, soft, and perfect for little ones to snuggle with. Soft stuffed animals can be given to babies of nearly any age, but the gift will mainly be decorative for babies under 6 months. Look for cute holiday-theme stuffed animals, like reindeer and polar bears, and make sure there aren't any loose parts, like button eyes, that could become a choking hazard.

Educational toys: Give the gift of learning with educational toys for baby to play with. Learning toys with lights, sounds, and textures help teach babies hand-eye coordination while simultaneously keeping them entertained. An educational toy is a great holiday gift because it can grow with the baby, continually challenging and educating him.

Rattles and teethers: When you have a fussy, teething baby, a teether can be a lifesaver. Even if your baby isn't teething, babies love to chew on and play with teethers and rattles, making them one of the staple baby toys. Give new parents a teether and rattle set or buy fun new toys for your own baby to enjoy this holiday season.

Mobiles: When baby lies down for the night or for naps during the day, a baby mobile can help calm him, so he can sleep. A mobile over the changing table can help distract a fussy baby who doesn't enjoy diaper changes, too. If you're looking for something fun and functional to give as a baby gift for the holidays, consider a mobile. (Remember, if Baby can stand up in her crib, a mobile over it can be a safety hazard; move it to another spot in the room once she can pull herself up to stand.)

Wooden toys: Classic wooden toys are perfect for the holidays. Look for trains, sleighs, and reindeer on wheels to entertain your baby during the holidays. Many parents prefer wooden toys with nontoxic finishes to plastic toys for their environmental and health benefits. These classic toys also look stylish even when they are stored on a shelf.

Push and pull toys: If your baby is 8 to 10 months old, she may be making her first steps. Help her with her newfound mobility by giving her a walker toy. Little cars and carts with handles give babies a bit of stability while they practice walking. If the push toy makes a bit of noise while Baby walks, then it adds even more to her sensory experience.

Shop Baby Toys
Shop All Baby
Find the Perfect Present in Our Gift Center
See All Guides
Read More Baby Guides
Get More Baby Gift Ideas