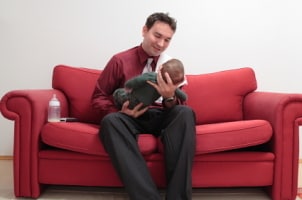 Are you searching for the best baby gift ideas for a new dad? Mom and baby usually get all the gifts and attention, so giving a gift to a new dad will be a much appreciated surprise. There are many creative and fun gifts to choose from when shopping for new dads. Check out these ideas for some of the best baby gifts for new dads.

Digital camera/camcorder. Giving dad a digital camera or camcorder is a great way to help him record all of the many milestones and memorable moments in his baby's first months of life and onward. Not only will dad have new equipment to take as many pictures and videos of his new baby as he wants; he'll also love having a new gadget to figure out and play with.

Baby carrier. Infant car seats are great for getting around town with your baby in a car, but there are times when an infant car seat is too bulky to carry while you're walking. Dads love holding their babies in their arms, but it's nice to have some hands-free time for multitasking, especially with a brand new baby. For this reason, one of the best baby gifts for new dads is a front or back baby carrier. A baby carrier gives dad plenty of baby-dad quality time while allowing dad to go for walks, run errands or do chores around the house. Dads will love being able to have their babies close, and most babies enjoy being in their carrier so much that they nod off within minutes of being strapped on.

Diaper bag. There are plenty of stylish designer diaper bags available for moms but what about dads? Most dads don?t want to carry around a women's diaper bag; get him a "dad bag" instead. There are many new masculine diaper bags on the market. These dad bags typically look more like standard backpacks or messenger bags but are designed with all of the handy compartments necessary for toting diapers, wipes, bottles and more. Masculine diaper bags will be a great hit with the new dad as he adjusts to life on the move with a little one.

Parenting books. Many new dads are overwhelmed by the responsibilities of becoming a parent and would probably appreciate a little help understanding their new role. There are plenty of general parenting books available, some written just for dads, that cover topics ranging from baby health and baby development to a father's role and discipline. These books make some of the best baby gifts for new dads by providing them with a resource to answer some of their many questions about parenthood and serve as a reference for future dilemmas.

View All Baby
Back to Guides Directory