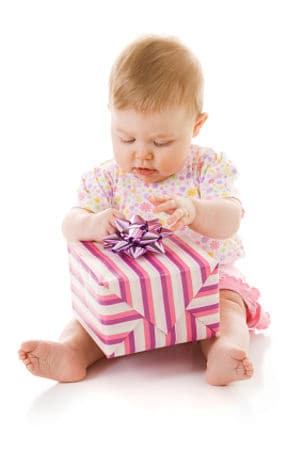 For gift-givers wishing to welcome a baby girl into the world, there are plenty of baby products to choose from. If you are looking for a baby girl gift that will impress and maybe even become a treasure to the new child when she is older, a little thought and originality can go a long way. A baby gift that is unique and special will delight parents-to-be and show your excitement for the new arrival. If you're having trouble coming up with something extraordinary, let us help you with our best baby gifts for girls.
The Best Baby Gifts:

Dresses. Special occasion dresses are among the best baby gifts for girls. These extravagant outfits can be rather pricey, and many new parents may not feel justified in buying this baby clothing, which makes them perfect for gift-giving. Fancy baby dresses are great for professional photography sessions, religious functions and other milestones, making them a lovely baby gift idea. Consider infant baby dresses that are out of the ordinary, such as ornate baby tutus and baby clothing made of tulle, lace and silk flowers.

Baby jewelry. Most grown women are passionate about jewelry, and this love for shiny accessories often begins at a young age, making baby jewelry a fun baby girl gift. Infant jewelry is available in a wide range of styles, including tiny beaded rings, small pendants and silver charm bracelets. Many of these pieces of jewelry can be worn by the child for years, with additional segments available to add to the jewelry. There are also baby jewelry items with matching mom pieces, such as cute little mom and baby pendants. These pieces are truly exceptional and will be a sentimental gift for mother and daughter.

Beauty accessories. If you are looking for a fun baby gift that will also be useful, consider giving baby accessories. A pretty comb and hairbrush set can be a lovely keepsake, especially if it is made of precious metals and gemstones. Hair bows are fun for a baby girl because they easily distinguish her as a girl to the rest of the world and add flair to baby outfits. Bath sets with pampering baby accessories are also fun for parents of new baby girls and can be coupled with other items in a gift basket.

Buy Baby Gifts
Back to Guides Directory