Best Baby Bracelets by Age
by Maegan Crandall

Dressing your baby in fun clothes and fashionable accessories is one of the exciting things about being a parent. If you love giving your baby or toddler a fashionable look, consider purchasing baby jewelry. Children's bracelets are sweet and special and can be worn by a baby of any age. Baby bracelets also make fun baby gifts for infants and toddlers alike. When shopping for children's jewelry, it is important to consider the age of the child in order to select the right pieces. Use our guide to buy baby bracelets for the special child in your life.
Baby Bracelets: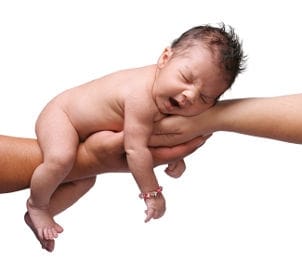 Shop Children ▸
Infants:

When shopping for infant jewelry, consider pieces that will be comfortable, simple and easy to wear. Stretchy baby bracelets on elastic are great choices for infants, as are petite chains that fasten securely. Make sure that the baby jewelry you select is designed to fit a newborn's tiny wrist. Personalized children's bracelets and birthstone bracelets are both fun baby gifts for newborns.

Older babies:

Babies who are starting to crawl and laugh at your funny faces look adorable in children's jewelry. Baby bracelets for older babies need to be comfortable and secure. Gold bangles, gemstone-studded chains and sweet little charm bracelets are wonderful for older babies. Consider giving a birthstone chain bracelet to your granddaughter on her first birthday; birthstone jewelry is sure to become a favorite keepsake.

Toddlers:

Toddlers love dressing up, and most little girls adore wearing jewelry selections of all kinds. Baby bracelets for toddlers need to be durable and versatile. Choose bangles, cuffs and beaded bracelets for your little fashionista. You might consider a piece of personalized jewelry for your niece or best friend's daughter, too.

Older children:

Preschoolers and school-aged children are sure to appreciate and treasure children's jewelry, and most jewelry selections are perfect for older children. Friendship bracelets, charm bracelets and cuffs are great choices for your four-year-old daughter. Consider jewelry that can grow with the child; chain bracelets with extra chain links will allow your daughter to wear a piece of jewelry for many years.