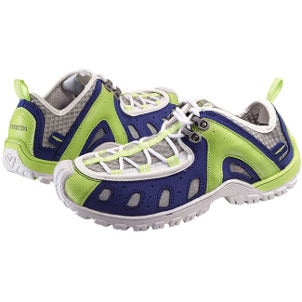 After a long week of work and shuffling kids around to various activities, your feet need a break -- so why not look for men's athletic shoes and women's athletic shoes that give you the comfort you need? Follow these tips to buy athletic shoes that fit your active lifestyle and provide stability and versatility for all your weekend activities.
Weekend Athletic Shoes:

Buy walking shoes for low-impact exercise. If you plan to take an early morning walk with your spouse or stroll around the park with the dog, men's walking shoes and women's walking shoes offer the support and comfort you need. Choose a pair that provides shock absorption and is made of mesh or a similar material so your feet can breathe. Men's walking shoes typically come in wider widths to offer superior comfort, and women's walking shoes offer sturdy soles and grips in vibrant colors such as purple, red and orange.

Look for flat sneakers for everyday activities. Women's athletic shoes come in various styles and colors for different activities. Buy women's sneakers with leather or suede uppers, sporty details and bright hues to give your outfit a funky touch. Slip-on women's sneakers are also comfortable, and they give you a quick option you can throw on quickly before you head to the grocery store. Buy men's athletic shoes with suede, leather and vinyl details and durable rubber soles for traction and stability. Color-blocked men's sneakers will give you a retro, laid-back vibe, as will simple white sneakers, which add a classic touch to every outfit. Purchase men's sneakers in grey or black for shoes that will resist wear and not show dirt and mud as easily.

Find running shoes for intense workouts. Women's running shoes and men's running shoes are perfect for jogging, running marathons or participating in high-impact exercise that can put stress on your ankles and feet. Buy women's running shoes with soles that grip well and provide plenty of traction, especially for sprinting. Men's running shoes should be designed with a padded insole and extra support in the heel and ankle areas. No matter which athletic shoes you choose, be sure they fit well and will not slow you down.

Buy Men's Athletic Shoes
Back to Guides Directory