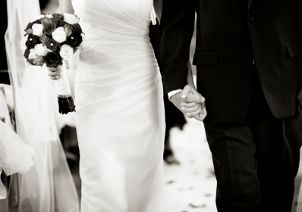 At any wedding, the aisle runner is a focal decoration during the ceremony and helps guests with direction to available seats. A variety of aisle runner designs exist: wedding runners that are traditional and simple and those that reflect the personal style and decorative accessories of the bride and groom. Whether you choose a colorful or traditional wedding aisle runner, there are plenty of ways to make it stand out.
Buying Aisle Runners:

Make it personal. To help your wedding stand out from others, a personalized aisle runner is an ideal way to add color or personality to the decorations, especially if the alternative is a plain white aisle runner. Aside from choosing a wedding aisle runner in the wedding colors, you can also add the bride and groom's names, as well as the date, for a sentimental touch. A personalized aisle runner can be customized for a variety of settings, whether you want colors to match a theme; have the runner made of different materials, like sea glass for a destination wedding; or have sturdy wedding runners made of tear-resistant rayon.

Look for a pattern. Not all aisle runners have to be simple and stark white, although an ivory aisle runner will go with many decorations. If you have an obvious pattern in the reception decor, such as a damask print or floral pattern and other decorative accessories, select an aisle runner that reflects the pattern for a twist on the traditional option. While a simple white aisle runner is traditional, you may also like to add your own touch to keep it original to the bride and groom. Keep the pattern subtle so it does not clash with flowers or other decor. An ivory aisle runner lined with a contrasting color is another option.

Initial it. One of the best decor ideas is buy a monogrammed aisle runner. You may purchase a custom aisle runner with simple embroidered monograms or one that has intricate beading around the edges for a custom look. Choose from a variety of monogram font styles to reflect personal taste and add significant phrases to a monogrammed aisle runner. Hand-painted designs make a custom aisle runner even more special.

Buy Decorative Accessories
Back to Guides Directory