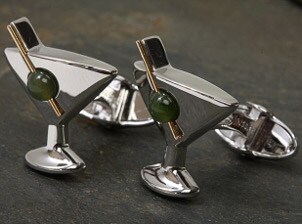 Stylish men use cufflinks to add polish and shine to a nice ensemble. Cufflinks are available in many styles, and they make a very classy gift before a wedding, on a romantic holiday, or for an anniversary. A collection of cufflinks doesn't have to be expensive. When shopping for affordable jewelry, look for specific materials that will add to your outfit without breaking your budget.
Affordable Cufflinks:

Sterling silver: Sterling silver cufflinks are a great, affordable option. Sterling silver is more affordable than platinum or white gold, but it offers the same gleaming silver appearance. Sterling silver jewelry will oxidize over time and need to be cleaned to remove tarnish. Silver fashion cufflinks can be cleaned with silver polish. If cared for, sterling silver jewelry will last a lifetime.

Cubic zirconia: Many pairs of stylish cufflinks incorporate diamonds and gemstones. Cubic zirconias are just as elegant as precious stones, but they are much more affordable. Look for cufflinks studded with white cubic zirconias if you love the look of diamonds. Cubic zirconias can be dyed any color to take on the appearance of colorful gemstones. Choose from elegant cufflinks sporting green, blue, yellow, red, and orange cubic zirconias.

Gold-over-silver: If you prefer the look of yellow gold, but don't want to pay the price for solid gold cufflinks, then you need gold-plated cufflinks. Gold-over-silver cufflinks are the best choice if you want the elegance of gold but are shopping for affordable men's jewelry. Gold-plated cufflinks will not lose their shine over time, and silver is a wonderfully durable base metal. Gold-plated cufflinks can be accented with colorful cubic zirconias or intricate details. These cufflinks look just like more expensive jewelry, but their cost-effective design will save you money.

Stainless steel: Industrial metals are very popular in men's jewelry. Stainless steel is the most affordable industrial metal used in jewelry and it makes for attractive cufflinks with clean lines and plenty of shine. Dressed up doesn't always mean being conservative: Look for stainless steel cufflinks in novelty shapes such as skulls, animals, and peace signs.

Buy Cufflinks
Back to Guides Directory