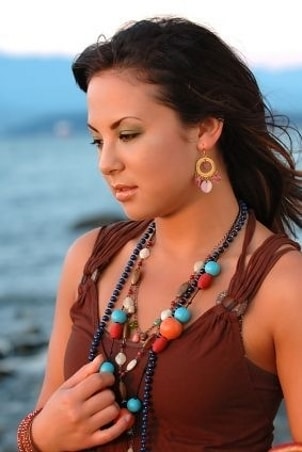 They say that it's the accessories that make an outfit. When you have all the right fashion accessories to complement your wardrobe, that may be true. Accessories can certainly make an outfit better. With a wide variety of women's accessories and men's accessories available, you can make the most out of any style. The following tips can help you pick the right accessories for your look.
How to Accessorize:

Urban: If you're going for the urban look, there are plenty of fashion accessories to go with your skinny jeans and graphic tee. For women, fun women's accessories, like a wide belt and oversized knit beret, can add color and detail to the look, and fingerless gloves will keep you hip and warm when the weather outside is cold. Men and women alike will look great with a scarf tied around the neck, and wayfarer sunglasses will top off the look with the perfect touch of hip style.

Classic casual: There's nothing like wearing jeans and a simple T-shirt. Give your weekend look a bit of polish with a leather belt and matching wristwatch. These simple accessories will take your outfit from simple to casual-cool. The gender-neutral look works for women's and men's accessories alike, and can be topped off with a baseball cap or sunhat on a summer afternoon.

Business attire: The accessories you wear to the office can make just as much of an impression as the clothing you wear. Accessorize your office look with a polished leather belt and tasteful but simple jewelry. You'll always want additional business accessories, like a nice wallet or handbag, as well as business card holders for your cards and contacts. A pair of tasteful leather gloves is the perfect accessory for cold morning commutes.

Formal: Formal occasions call for something a little more elegant when it comes to your accessories. An elegant evening dress is even more stunning with diamond jewelry, and a satin or pashmina wrap will keep you warm on chilly evenings. Top off your look with a pretty clutch. Men's accessories can dress up a suit or polish up a tuxedo. Cuff links are the perfect formal accessory for an evening out, and a fine cigarette case fits easily into a suit pocket.

Cold weather: When the temperatures drop outside, it's time to bundle up with cold-weather accessories. From hats and gloves to scarves and ear muffs, the right winter accessories can keep you warm all winter long. Knit hats and scarves help conserve heat, and leather gloves protect your hands from the winter chill. Stock up on cold-weather accessories so you'll have plenty to choose from once winter rolls around.

Buy Accessories
Back to Guides Directory