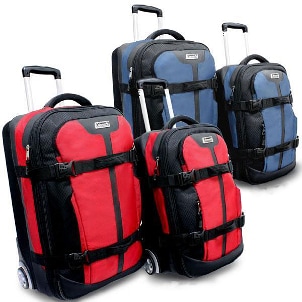 When it's time to get new luggage and bags, consider lightweight luggage. When you are shopping for a luggage set or individual bags for your next trip, it's important to pay attention to the weight and size of the empty luggage. Luggage made with aluminum, plastic or fabric offers a number of benefits for both short and long trips. Lightweight luggage is specially designed to be lighter than standard luggage and reduce the strain and fatigue of carrying your luggage around while traveling. Sleek and compact styles can be stowed easily in an overhead cabin or under a car seat, while larger luggage sets can keep you organized during long business trips or vacations. Keep reading for more benefits of lightweight luggage.
Lightweight Luggage Features:

Convenient hand luggage: When you're traveling by air, lightweight suitcases that meet carry-on size and weight requirements can be used as carry-on luggage, eliminating fees for checked baggage. Carry-on luggage and the best lightweight luggage are also much easier to lift up to an overhead bin and to maneuver through an airport.

Reduced baggage fees: Almost all airlines charge a fee to check bags, but the fees are much higher if your discount luggage is over a certain weight. By using wheeled luggage that is lightweight, you can save a few pounds that might save you a lot of money. Lightweight luggage is often discount luggage, too, so you save even more.

Less back strain: Carrying lightweight suitcases and packing light will reduce strain on your back, shoulders and neck. The best luggage to reduce strain and fatigue are suitcases, garment bags, rolling duffel bags and laptop bags made with nylon or vinyl; these are lightweight but durable enough to protect your belongings. Beware of leather luggage when you're looking to reduce strain; only certain kinds of leather luggage, such as split-leather, can be called lightweight.

Easy to handle: Lightweight luggage sets are easy to move around, store and carry across long distances. When you pack light and make use of all the compartments, lightweight wheeled luggage can be much more convenient than heavier bags when making your way through the airport, getting off and on buses or making a long walk to your hotel. The best luggage is always easy to pack, use and travel with, and the best lightweight luggage amplifies these qualities while adding a few benefits of its own.

Buy Lightweight Luggage
Back to Guides Directory