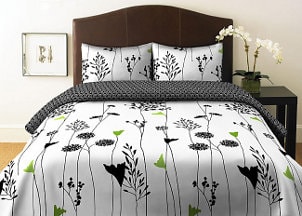 Duvet covers, also known as comforter covers, are some of the most popular bedding available today, which shouldn't be surprising. These terrific bedroom staples offer a wide range of benefits. Everyone has a different reason for loving comforter covers. Whether you are looking for style, comfort or convenience, duvet covers can help you meet your goal. Comforter covers are available from a large number of trusted brands in a variety of materials, colors and sizes, meaning there's something in the category for everyone. If you are interested in duvet covers but need a bit of convincing before you take the plunge, take a look at the article below, where you will learn the benefits of comforter covers.
Comforter Cover Benefits:

Comfort: One of the first things people notice about duvet covers is their inherent comfort. They are available in virtually any type of fabric you can imagine, so it doesn't matter if you prefer smooth, silky sateen or light, airy cotton; you are likely to find a comforter cover in a fabric that will feel great to you. Some of the most popular fabrics for duvet covers are cotton, Egyptian cotton, sateen, silk and microsuede.

Style: Obviously, most people who buy covers for their comforters love the style they provide. Duvet covers are must-haves for anyone who wants to give their bedroom a major aesthetic boost. This type of bedding is offered in every style you can think of. Some people love contemporary comforter covers. Covers with modern styling show off the latest fashion and design trends. They often feature bold colors and prints. It's also possible to find chic, modern covers with minimalist styling and stark shades. If your bedroom calls for something more traditional, you shouldn't have any trouble tracking down duvet covers with classic styling. Traditional covers make use of ornate, elegant prints and tasteful colors. Whatever your design scheme, you can count on finding a comforter cover that will fit it perfectly.

Ease of use: No one can deny how easy duvet covers are to use. Instead of worrying about washing your entire comforter, you can simply throw its cover in the washing machine. Comforter covers also allow you to easily switch them out according to your mood or style preference.

Buy Comforter Covers
Back to Guides Directory