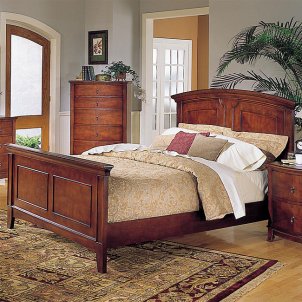 The way you decorate your bedroom can change the mood of the room and your comfort level while relaxing. This bedroom furniture buying guide contains some basic information on furniture to help you create the right look that provides the right atmosphere that a stylish, relaxing space can have.
Buying Bedroom Furniture:

Bed sizes: Since your bed takes up the most amount of space, it's important to match the bed size to the size of your room and to your other bedroom furniture. The dimensions of each size bed are as follows:

California king bed: 72 inches wide x 84 inches long

King bed: 76 inches wide x 80 inches long

Queen bed: 60 inches wide x 80 inches long

Full/double bed: 54 inches wide x 75 inches long

Twin bed: 39 inches wide x 75 inches long

Bed configurations: Your basic bed has a tall headboard on one end and a short footboard on the other end. In the middle is the frame where the mattress sits. What you need will depend on your comfort needs and your bedroom's decor and other bedroom furniture. If you're a tall sleeper, you may want to avoid a bed with a footboard that may make it difficult to stretch out. A wrought-iron bed frame would be perfect for a traditional farmhouse theme with antique-style bedroom furniture. A low-profile platform bed, on the other hand, is more appropriate for modern bedroom furniture sets.

Night stands: Night stands offer a wide variety of styles, from large wooden stands to minimalist glass night tables. It's best to match bedroom furniture like night stands to the height of your bed so you can easily reach lamps and alarm clocks from the bed. Some night stands are short, designed to sit beside platform beds. Others are taller for a traditional bed with a box-spring mattress. Ideally, you want the top of your night table to be about the same height as the top of your mattress.

Armoires: Sometimes, old-fashioned bedroom furniture types can fill a functional niche. An armoire or wardrobe can make a beautiful addition to your bedroom furniture, especially if you're low on closet space. The most common and basic armoire configuration features a clothing rod behind double doors, with several drawers at the base. Other configurations allow you to store entertainment electronics, like a TV, in your bedroom furniture. The armoire should be sized to fit the size of your room, as well as be matched to your other bedroom furniture so that it doesn't dominate the room.

Dressers and chests: Basically, the bigger the better when it comes to dressers. The drawers on all of your bedroom furniture should be matched to the size and amount of clothing you'll be storing. Over-packing dresser drawers will lead to wrinkled clothing or a jumbled mess. Chests are similar to dressers, only taller. This bedroom furniture usually features a single column of stacked drawers rather than the lower-profile wide dressers. Your dresser or chest of drawers should also be matched, in size and style, to the other bedroom furniture in your room.
Tip from Overstock.com:

Simplify your decorating plans with matching bedroom sets. Overstock.com has an excellent assortment of high-quality bedroom furniture sets for less. They're an easy solution to finding matching dressers, night tables and wardrobes in a single, unifying theme. If your bedroom is large enough, also consider new chairs, a bookcase or two, maybe a new entertainment center.

Buy Bedroom Furniture
Back to Guides Directory