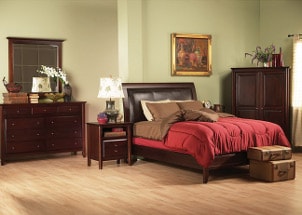 Decorating your bedroom can be a complicated task, and the huge variety of bedroom decor options doesn't always help. If you don't have any specific bedroom ideas in mind or you're torn between a few decorating ideas, this bedroom decor buying guide will help you find a direction that works for you. There aren't many limits to bedroom design, and your bedroom decorating style should be as unique as you are, so don't hesitate to let your creative side take over. Pick and choose the elements you like best from the many bedroom ideas below and put them together to create an interior design that is all your own, or pick one bedroom decor style and go all the way.
Bedroom Decor Ideas:

Romantic bedroom: For a romantic atmosphere, start with the right bedroom furniture. A sensual canopy bed, four-poster or any bed with a beautiful headboard and footboard makes a striking romantic base to build on. A matching dresser and nightstand will increase the effect; purchase bedroom sets to instantly change the look of your room. Dress your bed with soft, ultra-silky bed sheets. Choose a set of sheets in classic white and complement them with a down comforter in a warm tone like burgundy red, deep purple, rich gold or creamy mocha. Top it all off with fancy shams and other decorative pillows with embroidery or tassels in similar warm colors. Set the romantic mood with the right lighting. Wall sconces, candles or a chandelier with warm-toned light bulbs will bathe your room in a soft glow perfect for romance. A soft area rug can create a warm and luxurious feel whether your floors are hardwood or carpeted, and a gilded mirror or romantic painting on the wall will complete the look.

Multifunctional bedroom: If you love functional home decor and you're short on space, make your room a contemporary, mixed-use space that combines relaxation and work. A large nightstand can double as a small desk space for your laptop, books and other important items; this is a great option if your at-home work is casual or if you need to do it late at night. If you can't avoid working in your room, turn an armoire into your own small office space so you can shut out your work while you sleep. Soft sheets and supportive pillows will soothe your tension away. Choose sheets and bedding in soothing, solid shades, like pale blue, light tan or sage green. If you're going to be working in your room, you need sufficient lighting. Make sure you have a good central overhead light fixture with bright bulbs for when you're working and good desk lamps for your workspace. When you're done working, change the mood and rest your eyes by switching the overhead light for a few mood lamps.

Little girl's bedroom: Every little girl will love a four-poster bed with a cute comforter in her favorite color. Matching decorative pillows complete the look. Drape the four-poster with sheets or billowy netting to make it fit for a princess. Kids' bedrooms need extra storage; give your little girl a bed that doubles as storage furniture. A platform storage bed with drawers underneath the mattress is great for storing toys, blankets and seasonal clothing. A vanity mirror and table helps your princess look her best and can double as a desk for homework. A bean bag chair, plush area rug and leaning bookshelf make her room a great space for reading and relaxing with friends.

Little boy's bedroom: Give your boy's room order and style with a platform storage bed that provides extra space for toys and books. Cool novelty sheets and blankets will reflect his passion for cars, sports or superheroes. Bean bag chairs or gaming chairs will keep him off the floor and give him more seating when he has friends over. For school nights, get him a desk with a comfortable chair and a good desk lamp, so he can keep his mind focused on homework. If you're short on space, consider a bunk bed/desk combination; the top bunk is for sleeping and the desk is built into the frame where the bottom bunk normally goes. You can achieve the same results with by removing the bottom bunk of a regular bunk bed and placing a desk there, making this an easy storage option for a kid's bedroom.
Ideas from Overstock.com:

When it comes to decorating a bedroom, a matching set of bedroom furniture goes a long way. Bedroom sets give you a solid foundation to build on. All you have to decide is which bedding you love the most and how to arrange the furniture.

If you're short on office space in your home, you can incorporate a workspace into your romantic bedroom without losing the romance. Pick up a decorative screen. Shoji screens can block your work desk from sight, and with the beautiful designs and colors, you can find one to match the romantic decor. Organizational solutions to keep the home office neat and tidy can also help with a combined space. Keep papers organized and filed away with file folders. If you run out of space in your desk drawers, pick up a filing cabinet with a wood finish to match your bedroom decor.

Buy Bedroom Furniture
Back to Guides Directory