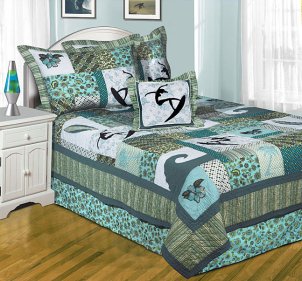 When you're decorating your child's bedroom, finding bedding for kids can be one of the trickiest parts. Each boy or girl has his or her personal likes and hobbies, and finding bedding for kids that matches the child for whom you are decorating in just the right way can be difficult, especially if you're only looking at kids' blankets. However, it becomes much easier when you realize that there are a number of different kids' bedding items you can find to help give your child's bed a look he or she will love. Choosing cozy kids' bedding sets, colorful kids' bed skirts, fun kids' pillows that are designed with kids in mind can give your child's room a look he or she will love.
Kids' Bedding Ideas:

Kids' bedding sets: The simplest way to finding matching bedding for kids is to look for kids' bedding sets. Kids' bedding sets usually include a blanket and matching sheets and pillowcases, which makes finding an ensemble of colorful bedding for kids much easier. You can find kids' bedding sets in bright solids, colorful animal prints and even with your child's favorite cartoon or comic book character printed on the comforter. Imagine how much your child will love climbing into a bed that has been personalized with kids' sheets and kids' blankets in his or her favorite colors or emblazoned with his or her favorite sports team logo.

Kids' bed skirts: Bed skirts are essential to any bed. They help hide the gap between the bed frame and the floor, and they add the perfect finishing touch to any bedding for kids. Your child's bed will benefit from the right kids' bed skirt, just like your own bed does. You can find bed skirts in a variety of bold colors for boys and trimmed with lace or printed with flowers for girls.

Kids' pillows: While you've probably already thought of adding kids' pillowcases to the ensemble as you've been shopping for bedding for kids, you might not have considered special kids' pillows. Many retailers carry a wide selection of kids' pillows in their bedding for kids departments. You can find accent pillows stitched with sports figures; accent pillows in the shape of different animals, like turtles and ducks; and throw pillows with prints and patterns designed with kids in mind. Taking a minute to explore the pillows in the bedding for kids department is worth your time.

Buy Kids' Bedding
Back to Guides Directory