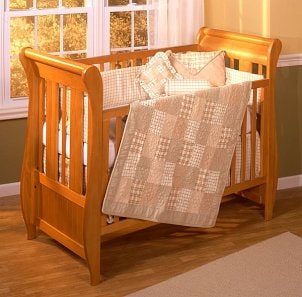 Even after you've spent nine months caring for yourself, eating healthy and maintaining proper rest to ensure a healthy baby, there is still a lot more to do to keep your baby healthy. The right baby bedding is crucial to a baby's health. Take a look below for a bedding for a healthy baby fact sheet.
Healthy Baby Bedding:

100 percent cotton: Cotton is usually soft and plush when used for baby bedding, but that doesn't mean that baby's skin won't be affected. Cotton is often grown in large crops for commercial use and is treated with pesticides and chemicals, making it risky for sensitive newborn baby skin. If your baby doesn't show signs of allergies or skin rashes in the first few weeks, 100 percent cotton is a feasible option.

Organic cotton: Although organic cotton can be slightly pricier than other materials, it may be worth your peace of mind. Organic cotton isn't treated with pesticides or chemicals. Plus, organic materials last longer than chemically treated fabrics because fewer steps are taken in the production process.

Bamboo: Bamboo is another natural textile on the market and has been used successfully for decades. Bamboo is pulped until the fibers are long enough to spin into material. It's a naturally smooth fabric, untreated with pesticides or chemicals, making it ideal for skin conditions such as allergic reactions or eczema.

Comforter size: Comforter or quilts should be the proper size for the crib so that they don't bunch up and risk endangering the baby. The standard size is generally 45 inches long by 36 inches wide.

Stuffed animals and pillows: Stuffed animals and pillows should not be placed in a crib as they create a high risk of suffocation for your baby. Place the stuffed toys and additional items around the room if you want to soften the look of the nursery.

Bumper pads: Bumper pads should surround the inside of the crib, guarding your baby from bumping into the crib rails. The pads should be tightly secured to ensure that your baby doesn't slip between the pads and the rails.

Crib sheets: Fitted crib sheets should have elastic, making for a tight, snug fit around the mattress.

Mobiles: Crib mobiles are a great way to soothe and entertain a baby, but they shouldn't be used after the baby reaches 5-6 months of age. As babies become active, the moving parts of a mobile can pose a possible strangulation risk.

Buy Baby Bedding
Back to Guides Directory