Bedding Buying Guide
by Kevin P. McGrath
The sheets, blankets, and pillow coverings you choose can be part of what helps you have a good night's sleep. Your bedding will also influence the style and feel of your bedroom, so you'll want to consider different looks when you're shopping. Here are some tips on buying bedding that you'll love.
Create a Comfortable Foundation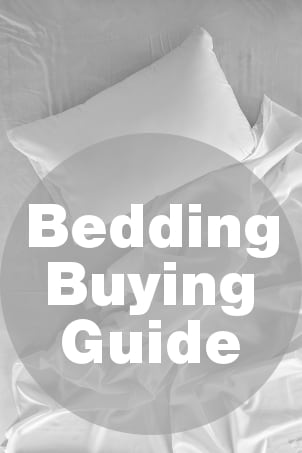 Shop Fashion Bedding ▸
Whether you are starting from scratch or adding to an existing mattress, mattress pads and toppers should always be at the top of your list. They can be a cost effective way to transform your ordinary bed into the foundation of your comfort oasis.

Memory foam mattress toppers

Nothing else will give you comfort like adding a memory foam mattress topper to your bed. Memory foam forms to each individual body and helps disperse body weight evenly across the bed. Memory foam mattress toppers will also help relieve strain on your pressure points while improving circulation as you sleep.

Featherbeds

Choosing the right down featherbed will add luxury and warmth to your bed and can be an economically friendly alternative to memory foam. A down featherbed is a mattress topper that gives your bed unrivaled softness without diminishing the support of the mattress.

Mattress pads

Give your mattress the protection it needs and the comfort you want. Using a waterproof mattress pad can help protect your mattress from spills and accidents, and it can extend the life of your mattress. For added comfort, be sure to look for a mattress pad that has a high thread count and extra padding. Mattress pads can be used in addition to your other mattress toppers.

Heated mattress pads

During cold winter months, a heated mattress pad makes cold sheets a thing of the past. Never again will you have to get into a cold bed, and you will be able to fall asleep in record time with the warm addition of a heated mattress pad. If you and your partner can't agree on temperature, then be sure to look for a heated mattress pad that offers multiple warming zones and separate controls.
Cover Your Bed with the Basics
When shopping for sheets and pillowcases, consider the fabric type, color, and size that will best fit your overall bedroom aesthetic.

Cotton sheets

When buying cotton sheets, consider the thread count, weave type, and texture. Each of these factors will contribute to the comfort and feel of your bedding set. The type of cotton can make a difference in the price and the quality as well.

Flannel sheets:

On a cold winter night, flannel sheets can keep you warm and cozy. Unlike the traditional cotton sheet, thread count is not as an important factor when shopping for flannel sheets. With their added warmth and insulation, flannel sheets can give your bedroom a warm, rustic feel.

Pillowcases

Although pillowcases are often included with your sheet set, don't be afraid to mix and match. A new pillowcase will help add style and comfort to your bed, or even help differentiate pillows. Do you have a special pillow you can't sleep without? Give it its own special pillowcase that helps make it stand out from the rest.
Make Your Bed Cozy
You want your bedding to set the stage for a cozy cove that envelops you in sleep. Cuddle up to a new comforter or warm up with the right blanket. Whatever you choose, making the bed with extra comfortable bedding will help you relax at the end of a long day.

Comforters

The traditional and most popular type of comforter is the down comforter or duvet. Although traditionally filled with down feathers, some comforters are filled with synthetic fibers or down alternatives. These alternative materials should be considered for anyone with down-feather allergies. The most common color for down comforters is white, but you can always match your bedroom colors or theme with a duvet cover.

Blankets

You can never have enough blankets and throws. A simple accent or throw blanket can add to your bedroom style and provide you some extra warmth in the middle of the night. With a wide variety of materials, styles, and colors to choose from, the right blanket is never far away.
Give Your Bed Some Style
Once you have built your bedding from the ground up, you should have the perfect combination of comfort and warmth that will help you sleep through the night. However, your dream bedroom will not be complete until you add some style to your bedding. Small bedding accessories can go a long way to help personalize your sleeping experience and make your bedding cohesive with your room as a whole. Be sure to consider the following whenever adding style, color, and fashion to your bedding.

Duvet covers

Here is your chance to make a statement with your bedding. Your duvet cover will often be the first thing you notice when entering the room. Beyond looks, good duvet covers will give you an added measure of protection; they save your comforter from wear, tears, and staining. Good down comforters will last for years with proper care. However, they can be difficult to wash or repair, so you should always protect your investment with a high-quality duvet cover that can be washed frequently.

Pillows

Make your pillows pop. Adding pillow shams or decorative pillows can quickly transform the look and feel of your bedding. Pillow shams are made to be easily added or removed from existing pillows. Throw pillows come in all colors, patterns, and sizes, so you can easily find one that blends into your existing bedding or stands out in a crowd.

Bedskirts

Transform a standard bed frame into something more elegant. Bedskirts can be a cost-effective way of hiding those unsightly box springs or under-bed storage. Be sure to find a bedskirt that will match the quality and colors of your bedding. A good bedskirt should not wrinkle easily and should be thick enough to keep the foundation, frame, and storage properly concealed.

Bed canopies

A bed canopy can complete your bedroom retreat. Pick a canopy that will complement your other bedroom and bedding accessories. Take note of your bedroom's dimensions and ceiling height when choosing your canopy. Installation will be required for hanging the canopy, but this can be an easy project with the right tools and planning. Research before you buy what will be needed to securely hang your bed canopy. Each canopy and how it hangs will vary depending on the size and model.