Bed Sheet Thread Count Fact Sheet
by Lisa Sefcik
Published April 29, 2010 | Updated June 12, 2015
The thread count of bed sheets refers to the number of threads per square inch of fabric. For example, if a square inch of fabric in a 300-thread count sheet with a standard weave were examined closely, 150 vertical threads and 150 horizontal threads would be counted, for a sum total of 300. The higher the thread count, the softer and smoother the sheets will be. Thread count is an important consideration to take when choosing a new set of sheets, but it should not be used as a sole indicator of quality. Equally important in choosing a bed sheet is the type and quality of the materials used as well as the fabric's weave.
About Thread Count: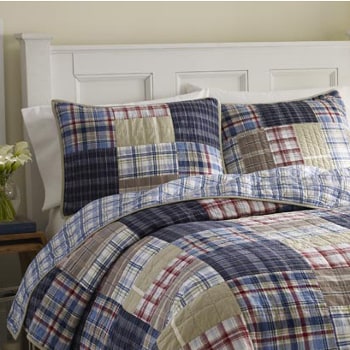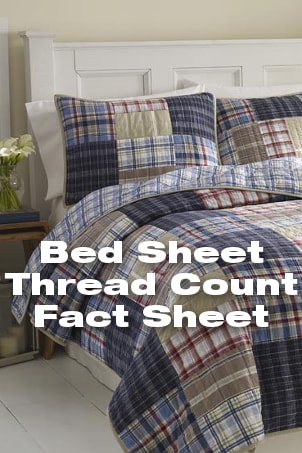 Shop Bed Sheets ▸
Balancing Softness and Affordability

You will find the widest variety of sheets with 300 to 500 thread count. These sheets will offer excellent softness at an affordable price.

Designer Styles

Many designer sheets and other novelty-print sheets have a thread count of around 200 to 300.

The Feeling of Luxury

Luxury sheets will have a thread count of 800, 1000, or even 1200. Luxury sheets are usually also made of very fine materials, like Egyptian cotton.

Give Yourself a "Hand"

The feel of a sheet is what textile manufacturers refer to as the "hand." A higher thread count can create a softer hand, but lower thread count sheets made of softer materials, like microfiber, can also have a very soft hand.

Washing Softens Sheets

If you have bed sheets with a lower thread count, they'll become softer after repeated washings.

For Kids and Guests

Cotton and cotton-blend bedding with a 250 thread count are perfect for kids and guest rooms.

What about Weave

The type of weave used in bed sheets can serve an ornamental purpose (such as in the case of jacquard sheets), but it can also alter the texture of the sheet and result in a more durable fabric. Sateen-woven sheets are constructed in a four-yarn-over, one-yarn-under weave, which gives the fabric its glossy appearance and satiny texture. Sheets with a pinpoint weave are constructed with two yarns over and one under. While somewhat less silky than a sateen weave, these sheets are slightly more durable, as fewer yarns are exposed on the fabric's surface. Percale-woven sheets are constructed so that each yarn is woven over and under the next to produce a fabric that's both resilient and comfortable.

Feeling the Fibers

In addition to thread count, an important consideration when selecting sheets is the type of material used in their construction. Polyester-cotton blend sheets and 100-percent polyester satin sheets are extremely low-maintenance; they wash well and emerge from the dryer wrinkle-free. However, the downside to many polyester or polyester-blend sheets is that they don't "breathe" as well as those made of 100-percent cotton, which wick away moisture from the body. The highest-quality cotton types are Egyptian, Supima, and Pima, which are made from extra-long staple (ELS) cotton. The longer yarns used to make these sheets result in a fabric that's not only extremely durable but becomes suppler over the course of many launderings.