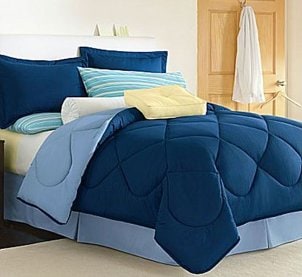 Bed linens are one of the most used items in the home, so it makes sense that you would want to pamper yourself and choose bedding that promotes comfort, style and a good night's sleep. When you are shopping for bedding, keep in mind that products vary widely in terms of quality and cost, but if you know what to look for, you can find an exceptional product for an excellent price. Look over this bed linen fact sheet to increase your chances of finding the perfect bedding.
What You Need to Know:

Types: Bed linens come in a huge range of sizes, styles and materials. Aside from the standard twin, full, queen and king measurements, you can also buy sheets in a twin-XL (commonly used in college dorms), as well as special deep or extra-deep pockets to can accommodate the fullest pillow top mattresses. Whether you prefer soft sateen sheets, high-end silk linens, eco-friendly threads or zany prints that showcase your personality, you have many options.

Materials: "Green" living has become increasingly popular, and bed linens have not escaped the trend to be earth-friendly. In addition to the cotton, silk, satin and polyester blends that have always dominated the sheet market, today you can also buy sheets made from bamboo, a fast-growing, easily sustained plant that produces silky, soft fabric. Another eco-friendly option is organic cotton. Just as soft as its non-organic counterpart, organic textiles are made with natural materials grown without the use of pesticides. For cozy comfort, buy sheets made out of flannel or brushed cotton that mimic your favorite T-shirt.

Thread count: Although many people think that an extremely high thread count is the most important factor in the softness and quality of bed linens, there are actually two things you should look for before purchasing sheets. Just as important as thread count is locating sheets that are single ply. Ply refers to the number of threads that are wrapped together before the thread is woven into fabric. For example, a set of sheets labeled "800 thread count, two-ply" are really just sheets that have 400 threads per square inch, but have two threads doubled up to create a single thread for weaving. Because of that, the manufacturer can label the set as 800 thread count. Sheets labeled single ply, along with a high thread count, are the highest quality.

Care: Wash your sheets regularly in warm water with a mild detergent, and avoid bleach since it is harsh on fabric and can cause wear quickly. For a fresh scent and reduced static without adding unnecessary chemicals to your wash routine, hang sheets to dry in the sun. Avoiding the dryer will also extend the life of your linens. If you do not have the space or time to air dry, dry them on the lowest heat setting available, or take them out while they are still slightly damp.

Allergy considerations: If you suffer from allergies, you can purchase bed linens that will cut down on dust mites and allergens in your bedroom. A hypoallergenic dust mite cover will protect you from irritating dust mites that feast on dead skin when you hit the sack, while sheets made from organic materials are naturally hypoallergenic. Allergy sufferers should also avoid any bedding items that are filled with down, and instead opt for synthetic fillings.

View All Bedding
Back to Guides Directory