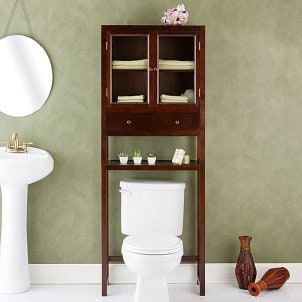 Starting your daily routine in a bathroom that fits your personal style and exudes relaxation can have a lasting effect on the rest of your day. To create such a relaxing space, you'll want the right bathroom furniture, like a bathroom vanity, cabinets and storage. This bathroom furniture buying guide will help you with a few guidelines on how to redecorate with bathroom furniture to create the right look and feel for your bath.
Buying Bathroom Furniture:

Bathroom vanities: Your bathroom vanity is the combination of a sink, mirror and cabinetry that creates a centerpiece of your bathroom. There are a lot of options out there, so you'll be able to find a combination of bathroom furniture to match nearly any style.

Sink and vanity size: Available space can often be a limiting factor when it comes to updating bathroom furniture like a bathroom vanity. You'll need to consider the placement of other fixtures in the bathroom, such as the toilet, shower and bathtub. You may also want to measure the swing-path of the door if it's near to the bath vanity location. Be sure to include walking and turnaround space in your measurements, as well.

Sink and vanity mounting: Once you know the area you have to work with, decide on the best way to install your bathroom sink.

Types of Bathroom Sink and Vanity Mounts

Free-standing bath vanities: Most bathroom sinks are free-standing models, mounted on top of the vanity counter, relief-cut into the countertop or supported by a pedestal. Free-standing sinks also tend to provide a little more counter space and stability than wall-mounts and come in more styles.

Wall-mount sinks: If you are short on space and need the square inches below your sink, wall-mount bath sinks will liberate a lot of room compared to more bulky bathroom furniture or vanities.

Plumbing fixtures: Some pedestal sinks and wall-mount sinks require specific placement for drainage and plumbing hookups.

Sink and vanity construction: Sinks, lavatories and vanities are constructed with a large assortment of materials. White porcelain or ceramic sinks are an old classic. Both substances can be shaped into new, creative designs that are both durable and easy to clean. If you would like a bolder, more adventurous look in your bathroom furniture, consider a sink of formed glass, stone or even tempered metals like brass or copper. Bathroom vanities vary widely, too. Wood, metal and glass all combine to form styles from modern to old-fashioned.

Sink and vanity styles: From wood bathroom furniture with old-world elegance to sleek and contemporary glass sinks, there's truly something for everyone. Style is largely a question of making a functional sink and bath vanity aesthetically pleasing. The bathroom vanity usually conforms to your chosen sink style.

Sink Styles:

Embedded sinks: You'll be familiar with sinks embedded in the bath vanity's countertop, usually with cabinets or other bathroom furniture included underneath and on the sides of the sink bowl.

Vessel sinks: One popular design is the above-counter sink, otherwise known as a vessel sink. Vessel sinks sit on top of the counter or partially sunk into the vanity countertop. You may want to consider the height of the vessel and choose a shorter bathroom vanity to ensure the sink is at a comfortable level for hand washing.

Bathroom cabinets: In most bathroom furniture sets and vanity sets, cabinets are part of the package, but you may want bathroom cabinets for unique spaces in a style that matches the rest of your bathroom furniture.

Styles of Bathroom Cabinets
Medicine cabinets are generally wall-mounted above the sink and feature a mirror on the door. These bathroom storage solutions keep your bathroom essentials organized, out of sight and close at hand. It's best to anchor this type of wall-hung bathroom furniture to multiple wall-studs to support the weight of the mirror and cabinet contents.

Wall-mounted bathroom cabinets tend to have a bit more storage space than medicine cabinets because they have more depth. Larger wall-mounted bathroom furniture can be practical decorative pieces that provide convenient storage over the toilet or on a blank wall.

Free-standing bathroom cabinets are best for larger bathrooms, since they take up limited floor space. Match these cabinets to your other bathroom furniture to create a unified theme.
Bathroom shelving: The trick to decorating with bathroom furniture is the make the functional seem decorative. That's where bathroom shelving comes in. More than any other piece of bathroom furniture, bathroom shelves serve the dual purpose of function and decoration. When selecting shelves, continue with the unified theme you've developed with your other bathroom furniture. That may mean selecting wood, glass, metal or wire shelving that fits with the contemporary or traditional style you've built.

Buy Bathroom Furniture
Back to Guides Directory