Bath Sheets vs. Bath Towels
by Lisa Sefcik
Published April 29, 2010 | Updated June 11, 2015
Most bathroom decorators are accustomed to purchasing conventionally sized bath towels. Standard-sized bath towels are usually included as part of a set. Buying a set is often easier on the pocketbook, and there's no need to worry if your bath towels will match your hand towels and wash cloths. Don't scrub the notion of incorporating bath sheets into your bathroom sets, however. Bath sheets, due to their size and volume, add considerable luxury whenever you step outside of the shower or tub.
Bath Sheets and Bath Towels: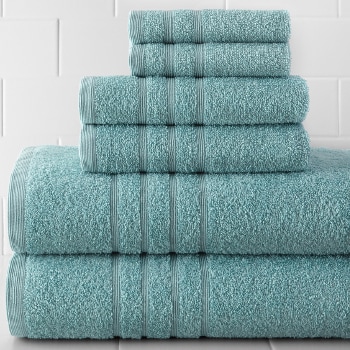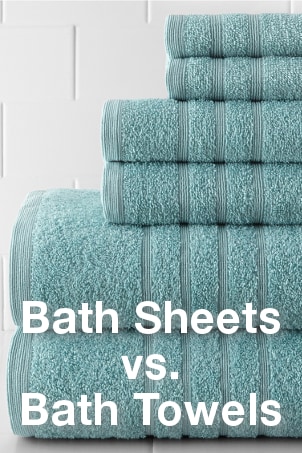 Shop Towels ▸
About Bath Towels

Standard bath towels come in different dimensions, depending on the manufacturer, but they typically range in size from 27 inches by 52 inches to 30 inches by 58 inches. When it comes to hanging bath towels on your towel rack, standard bath towels have the advantage; they can be easily placed over racks, either bi-folded or tri-folded. Bath towels are suitable for children's bathrooms and anyone who likes to blot dry and go after showering.

About Bath Sheets

When it comes to dimensions, bath sheets are usually 35 inches by 60 inches, which gives you the power of extra absorbency and substantial size. Those who love to linger in the bathroom will appreciate this particular benefit of bath sheets. Men can drape bath sheets around their waists as they shave and groom, and women can wrap bath sheets around their bodies sarong-style while they put on make-up.

Color Conundrum

Many towel manufacturers create bath sheets and bath towels that are perfectly color-matched, but what if you prefer decorative towel sets, such as those with a distinctive print or pattern? In that case, it's easy to incorporate bath sheets into your decor. Simply choose the color in your conventional towel set that you wish to accent and find bath sheets that closely match.

Hanging and Presentation

A common concern about bath sheets is that their size makes them difficult to arrange on standard-sized towel bars, which are usually 24 inches in length. What's the solution? Over-the-door hook racks placed on bathroom doors let you drape towel sheets in places that are easily accessible.

Shelf Life

The most cherished bath towels and bath sheets eventually must be retired when they start to lose absorbency and their colors begin to fade. While old bath towels are relegated to mopping up spills in the bathroom or kitchen, the lives of bath sheets can be extended; they're perfect for poolside drying or trips to the beach.