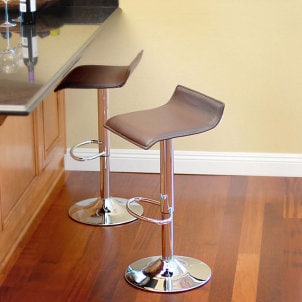 Once you've purchased that new bar table, it is time to find bar stools to match. Bar stools and counter stools come in many styles, shapes and sizes. Finding the right height and style of bar furniture for your bar table, bistro table or counter is easy with this bar stool buying guide.
Buying Bar Stools:

Bar stool sizes: The most important part of picking out bar stools is the size. You might have found the ideal finish and fabric for your bar stools; however, if they are too short or too tall, the style doesn't really matter. Still, there are several things you should consider when picking out furniture bar stools.

Height: The first thing to discuss is the difference between a bar stool and a counter stool. Bar stools average a 30-inch seat height, and counter stools average a 26-inch seat height. These two stools are often confused, but the seat height is different enough that buying them interchangeably could cause some problems; counters and bar tables are different heights themselves. Bar stool heights can be shorter or taller than the average; there are extra tall bar stools, and these seat heights average 34 inches.

Spacing: Just as you would space the chairs of your dining room table for ideal comfort, you should also space your bar chairs and counter stools. Bar owners try to avoid crowding too many bar stools together to keep patrons from finding an elbow in their face, and to avoid this, there is an industry standard: Allow 26 to 30 inches between the centers of each bar stool. This provides enough room for your guests and family to eat and socialize.

Bar and counter stool materials: The materials that make up your counter stools and bar stools affect the quality of the product you buy, as well as the price.

Wood: Wooden bar stools and counter stools are durable and look great in old-world pubs. How they look in your home depends on your decor, the style and the wood finish you choose. Leather and wood will fit in nicely with a darker wood decor while a lighter wood fits well in a sunny breakfast nook. If you purchase backed wooden stools without padding, consider picking up cushions made for stools or bar chairs. Chair cushions can be purchased in any color you want, matching the rest of the room.

Metal: Metal bar stools and counter stools look good with most decor; they are usually upholstered or have seats made of wood or plastics. You can get many metal bar stools that come in a swivel bar stool model.

Another benefit of metal bar stools is that most are adjustable. Adjustable bar stools and counter stools use hydraulics or gas-lifts, just like your office chair, to adjust the seat height. There are two things you want to look for when purchasing your metal bar and counter stools:

What to Look For in Metal Bar Stools:

Look for stools with a covered piston. The hydraulics or gas-lifts, if exposed, will be greasy if touched, and a sleeve over the piston will keep clothes, kids and you clean.

If the seat is adjustable, you'll want adjustable footrests. Make sure you can adjust the foot rest to match the height as you change it.

Upholstery: As with any furniture piece, you'll want the upholstery to meet a couple of requirements:

Upholstered Bar Stool Tips:

Padding should cover the entire surface and continue down and around; you don't want your padding to stop at the edge of the seat if the upholstery continues.

Upholstery should be easy to clean and maintain. Leather, microfiber and polyester are more stain-resistant than other fabrics and materials. Vinyl is also a good choice.
Tips from Overstock.com:

Complete the look: If you are purchasing bar stools for a home bar, don't forget to pick up other necessities. You'll also find discounted bar and wine tools and bar storage -- everything a home bar needs. With great deals on ice buckets and coolers, shakers and martini glasses, your bar will be in full swing before you can say "on the rocks!"

If you want more of a cafe style, don't forget to look for bar tables. The right pub table can really set the mood of a whole room.

Make it Kid friendly: Home bars aren't the only place for bar stools. Kids will enjoy sitting at the counter watching you make their favorite homemade pizza or dessert. Nothing is more fun than eating with mom and dad at the counter! Kitchen bar stools also allow your kids to sit at counter height and make treats with you. Next time your son or daughter wants to help make cookies, all they need to do is hop up on a counter stool and they're ready to stir and scoop.

Buy Bar Stools
Back to Guides Directory