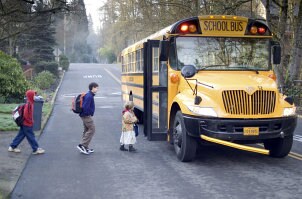 Different kids have different study styles, of course, and are motivated through different tactics. Make sure your back-to-school shopping list includes everything you need to suit your student's particular study habits and help them make the most of the school year ahead.
Back-to-School Essentials:

For bookworms: The reader in your life will appreciate proper lighting and some versatile storage options. Shelves with cubby holes let you group books by subject, but more traditional shelves might be in order if you have a bunch of books you need to keep close at hand. A book light is a good idea for kids who like to read in bed and have outgrown the flashlight-under-the-covers technique, and a bed-rest pillow can make late night study sessions more comfortable.

For artists: Encourage your budding artist with an assortment of supplies. Watercolors, brushes, colored pencils, pencil sharpeners and some quality paper will have you reaping fridge-worthy rewards in no time. Create personalized book covers to make math appeal to even the most right-brained students.

For social butterflies: Young fashionistas know what they want, and you'll have a bargaining chip when you know where to find their favorite things. With the wear and tear clothes go through, it makes sense to stock up on favorite pieces so no clothing crisis detracts from the serious business of studying for tests. For the younger students in your life, shop for mix and match outfits or tops and bottoms that can easily be paired; not fighting over clothes will make mornings easier.

For budding techies: Easily lured into studying with the promise of computers and other gadgets, this type of student is easy to shop for. Since laptops are a useful study tool, they're an easily justifiable purchase. A single printer can service several computers, so you can take care of a whole family of techies with a few simple upgrades.

For students of life: Everyone, no matter their age or grade level, deserves a well-ordered space to call their own. Whether you're paying bills, writing your first novel or just finishing up a crossword puzzle, it's bound to go better with an uncluttered table or desk and the right creative accessories.

Buy Back-to-School Essentials
Back to Guides Directory