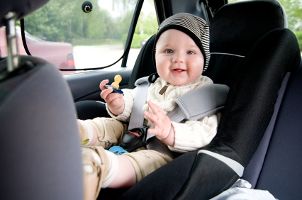 Infants require a lot of baby items in the early months of their life, and one of the biggest baby purchases you will make as a new parent is the baby travel system. Baby car seat travel systems consist of a car seat, base and a stroller in one unit. Travel systems make baby travel easy, whether you are driving, shopping at the mall or eating at a restaurant. When shopping for and using a baby travel system, it is important to remember and practice child safety. Use our baby safety tips to keep your little one secure and comfortable while using his travel system.
Baby Travel System Safety:

Function: Baby travel systems keep your infant safe in the car and out in public. They typically consist of an infant car seat, a car seat base to easily secure the seat in your vehicle and a stroller that holds the car seat. These travel baby items work together to allow you to move your baby from car to stroller without removing him from the comfort of his seat.

Benefits: The biggest benefit of a baby travel system is convenience. If the baby falls asleep while you are out at the mall, you do not need to unbuckle him from a stroller or baby carrier to move him into the car. You can simply unlatch the seat from the system's stroller and click it into the car seat base instead. Travel systems also offer a high level of baby safety because they include a top-notch infant-appropriate car seat, and the base makes it easy to install the car seat correctly and securely in your car.

Features: Baby travel systems offer many features, including an adjustable handle so you can carry your baby easily, shade screens to protect your little one from bright light and germs, large baskets for convenient diaper bag storage and a reclining seat that will accommodate your child for many years. Baby travel systems also offer important child safety features, including a five-point harness that keeps your baby securely in the seat at all times and brakes that provide stability when you are stopped.

Considerations: Babies need to be kept in the safest rear-facing car seat position until age one and a weight of 20 pounds, so it is important to consider a seat that will accommodate your child until those milestones are met. Some baby travel system car seats can be used until your child weighs 35 pounds. These car seats are among the safest baby gear choices.

Buy Car Seat Travel Systems
Back to Guides Directory