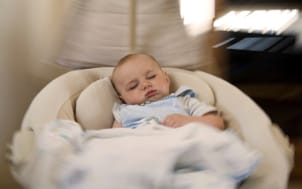 When it comes to your baby, you want enriching baby activity gear, like baby swings, that is both helpful for you and fun for your baby. The rhythmic swinging motion of a baby swing is soothing for babies because the feeling is similar to the feeling of being in the womb. A baby swing can help soothe even the fussiest baby with a comfortable seat and a gentle rocking motion. A baby swing can also provide you with a safe place for your baby while your hands are full. Taking care of a baby is hard work, but a baby swing can help make your job a little easier by providing you with a helping hand or an extra set of arms to hold and rock your baby when you need them most. If you're thinking about buying a baby swing, this buying guide can help you decide what is best for you and your baby.
Buying a Baby Swing:

Portability: If your home is on the small side or you anticipate regularly moving your swing from room to room or from house to house, a portable swing might be more convenient for you than a standard swing. Portable swings are lighter weight and slightly smaller and easier to move. Portable swings, however, are often much closer to the ground than standard swings, which can be uncomfortable for everyday use. A standard swing is larger than a portable swing, which makes it easier for you to load and unload your baby but also less easy to move around than a portable baby swing. However, if your home is short on space or you need your swing to be able to travel with you, a standard swing may be too large and cumbersome for your needs

Safety and comfort: Your baby swing should be both safe and comfortable. Look for comfortably padded seats, an adjustable seat recline, infant head support and a good harness or restraint system to keep your baby from slipping or climbing out. A five-point harness is always best. If the baby swing has a tray, look for one that swings up or is removable. This will make getting your baby in and out of the swing much easier.

Side-to-side or forward and backward: Some baby swings have a side-to-side motion, and others have a forward-and-backward motion; some have both options. Your baby may prefer one motion to the other, so unless you choose a swing that has both options, try them both before you buy if you can.

Power source: Most baby swings are wind-up or battery operated, but a few do have a wall outlet option. While the plug-in option is definitely the most convenient power source, very few baby swings have this option. Because batteries need to be replaced, they add cost to the operation of the swing, but battery-operated swings are in many ways more convenient than wind-up swings. Battery-operated swings are typically quieter than wind-up swings and some have multiple speed options to suit your baby's preference, while wind-up swings only operate at one speed. In addition, as the name implies, wind-up swings need to be re-wound by hand at regular, short intervals, which can wake both you and your baby when you are trying to take a nap.

Buy Baby Swings
Back to Guides Directory