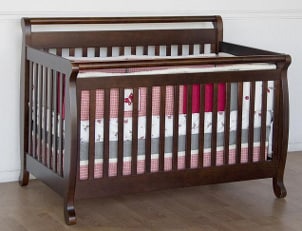 If you are shopping for a new baby crib, then it is a good idea to research crib safety. Your child will likely spend many hours in his crib, so it needs to be a comfortable, safe place that gives you peace of mind. Use our baby crib safety facts to help you select a secure baby bed and use it safely.
Facts about Baby Crib Safety:

New cribs: An older crib may be a cost-effective option, but it can pose serious safety concerns. Pre-owned nursery furniture may have loose or missing parts, which can cause the crib to fall apart. Older cribs can also have outdated safety guidelines. Pre-owned cribs may also have peeling or chipping paint or wood that can be swallowed by a baby. New cribs are the safest and have the most up-to-date safety standards.

Teething guards: Teething babies will usually chew on just about anything. A crib railing just might become your baby's favorite teething toy. A quality teething guard on your crib rail will prevent your baby from swallowing paint or wood parts. Made from plastic, a crib teething guard is washable to prevent germs and bacteria from building up. Check a crib's teething guard for any sharp edges or cracked pieces before using.

Slats: The slats of the crib must be properly spaced so that your baby cannot fit between them and get caught. The space between two slats should be no more than 2 3/8 inches. Check slat stability as well to be sure that they will not break or become loose easily.

Toys and decor: Even the safest crib can pose a safety hazard when crib toys and decorations are placed too close. A baby mobile should be hung high enough above your baby's crib that your baby can't pull it down on herself. Similarly, decorations need to be out of your baby's reach. Wall decor, diaper stackers and other decorative accessories are all enticing to babies. The older your baby gets, the further she will be able to reach, so decorations and toys need to be placed far from the crib.

Bedding: Infants who are 12 months old and younger should sleep on their backs in cribs or cradles, with a firm mattress and fitted sheet only. Crib bedding, such as quilts, bumpers and pillows, can all pose serious suffocation hazards. Babies older than 12 months can sleep with a quilt and bumper, since they are able to move around to avoid suffocation.

Safe use: Once you have purchased a quality crib, use it properly to ensure that it will be a safe place for your baby. Avoid placing the crib near electrical outlets, cords, wall hangings or drapes. Avoid placing the crib directly under a window. Assemble the crib according to the manufacturer's instructions, using all included parts. Make sure all hardware on convertible cribs is sturdy and will not give way. The U.S. Consumer Product Safety Commission has banned drop-side cribs because they pose a risk to infants. Many old cribs feature a drop-down side and should be avoided.

Buy Cribs
Back to Guides Directory