Baby Center Essentials: Feeding and Clothing
by Andrea Sparks
Published March 12, 2013 | Updated August 14, 2015
Getting ready for your baby to arrive can be an exciting, but stressful time, for a new parent. You want everything to be ready in time, but there's so much to do. This guide will help you take care of some of the basics: feeding and clothing.
Feeding Your Newborn: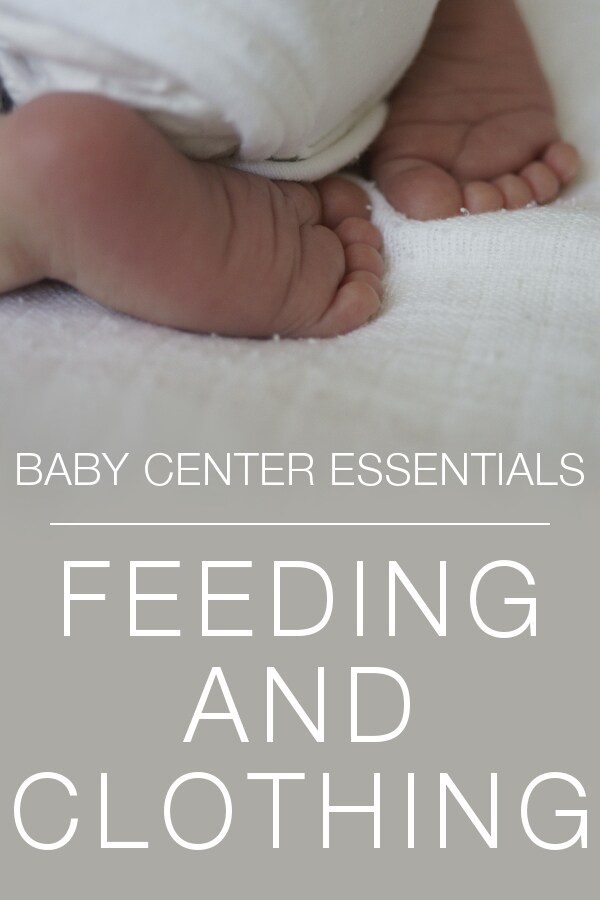 Shop the Baby Store ▸
Find the Right Bottle

Even if you plan on breastfeeding, you'll likely want a few bottles on hand for those times when you're away, and bottles are a necessity for parents who plan to use formula. Not all bottles are made the same; it'll likely take some trial and error before you find a bottle that your baby will take. Younger babies need a nipple with a lower flow, and you can switch to designs with a higher flow as your baby grows. The size of bottle you use will increase as your baby begins to eat more.

Choose Nursing Supplies

A few accessories can make nursing easier and more comfortable for you. A nursing pillow gives your tired arms a break and supports your baby while you're breastfeeding. If you want to be able to breast feed discreetly in public, you can shop for a cover, although some lightweight baby blankets can be tied in place. A good nursing bra can be unlatched in front with one hand; be sure to buy stretchy nursing bras since it's hard to predict what size your breasts will be. And be sure to get some absorbent nursing pads, which go inside your bra and soak up any milk, so you don't get wet spots on your shirt.

Consider a Breast Pump

There may be times when breastfeeding isn't convenient or possible. A breast pump will help you pump and save milk for when you're on the run. Pumping and storing also lets other members of the family get involved in feeding baby, too, which can be an important bonding time for the family. Not every pump works for every woman, however. You'll want to make sure it pumps the appropriate volume for your needs; a small hand pump is enough for moms who only use pumps occasionally, while an electric pump will be more efficient for moms who plan to pump more often.

Think about Choosing a Formula

Many parents choose to use formula, whether that means feeding your baby strictly with formula or using it to supplement breastfeeding. For the best baby formula, look for one that is as close to breast milk as possible. Key nutrients, like DHA, ARA, and choline, are found in breast milk and should be contained in most formulas, as well as whole proteins, calcium, and antioxidants. A good formula will provide all the same nutrients as breast milk. If you have more questions, be sure to read our guide on finding the right formula.

Newborn Clothing:

Base Layers

Babies have tiny bodies that are hard to keep warm, even in the summertime. A good onesie acts as the perfect base layer for your baby. It will help retain crucial body heat as well as protect your baby's skin from more irritating fabrics that you may layer over top. Look for onesies and undershirts made of soft cotton. Organic materials are a great option because they don't have the chemicals often found in other fabrics that can irritate your baby's skin.

Keeping Warm

It takes more than onesies to keep your baby warm and comfortable. Newborns especially need to stay bundled up to conserve body heat. Keep their little feet covered with socks or footed outfits, and you can even put mitts on their hands to keep them warm (and keep them from scratching themselves). You lose a large amount of body heat through your head, which is increased in babies without a thick head of hair like adults have. Hats keep babies nice and cozy and are recommended for newborns even in the summer months.

Clothing Sizing

Baby clothing sizes are based on weight and height. Not all newborns fit into newborn size clothing, and sometimes an 18-month-old fits better in 12-month sizes. The best way to determine your baby's size is to go by weight and height rather than age. The infant clothing sizing chart in our International Children's Clothing Sizing Guide will help you find the right size by correlating age-based sizes with your baby's measurements.