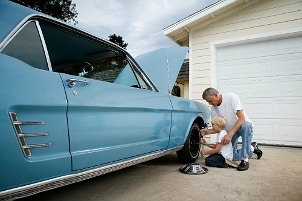 Whether you're an automotive technician or just a weekend car enthusiast, you'll probably need to fill in a few holes in your tool collection to cover the bare necessities for automotive tools. To be ready for any auto repair job, you'll need a variety of auto tools. To get started though, you may just want to cover the basics. Here is a checklist of automotive tools for your toolbox, with explanations on why you'll want each of them.
Essential Automotive Tools:

Sockets and ratchets: A ratcheting wrench and socket set are nearly indispensible automotive repair tools for tightening and loosening bolts in places where using a regular wrench is just impractical. You'll want a socket set with both English and metric sockets. Be sure to include spark-plug sockets, which are usually 1-3/16 inches and 1-5/8 inches, with your tools. Spark plugs are basically inaccessible without the proper automotive tools.

Pliers: There is a whole branch on the family tree of automotive tools for different types of pliers. The kinds you'll want in your toolbox include needle-nose pliers, slip-joint pliers, channel locks and wire cutters. These automotive tools allow you to bend, cut and just plain manipulate objects that are unwieldy or hard to grip with your fingers.

Calipers: Calipers are precision automotive tools used for precise measurement. They give you a better measurement because they grip the sides of the object you're measuring, as opposed to a ruler, which can slip.

Screwdrivers: Phillips and flathead screwdrivers are always great tools to have in your pocket. A ratcheting screwdriver with interchangeable heads can be even better. You'll encounter various sizes of screws in just about any project.

Wrench sets: Your socket sets are vital automotive tools, but a plain old wrench set is also necessary, especially in narrow spaces that won't allow the space for the ratchet and socket.

Torque wrench: Certain nuts and bolts will require precise tightening, and that's where your torque wrench comes in. Make sure your automotive tools include a torque wrench with an easy-to-read display, showing the pounds or kilograms per inch that you're applying.

Allen wrenches: It's easy to include these in your automotive tools. Tiny Allen wrenches, or "hex keys," are used to fit nuts and bolts with a hexagonal recession. You may have used them to put together some furniture, but you'll really find use for them in the garage.

Flashlight: A small pocket flashlight is easy to get into dark spots underneath your car, giving you a bit of light to work with. A flashlight and extra batteries are good items to keep with your automotive tools.

Tool cabinet: Part of having a comprehensive set of automotive tools is organizing them. A durable tool chest or cabinet on casters is easy to roll out of the way when you're finished working. And with plenty of drawers and hooks for your auto tools and power tools, you'll feel better having them all in one organized space.

Buy Auto Tools
Back to Guides Directory