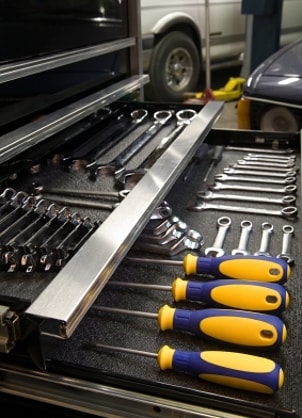 Almost every garage will have a set of basic tools lying around, but an auto enthusiast's garage is sure to have some more advanced auto tools for repairing, restoring or just tinkering with cars. Whether you plan on restoring an old hot rod or you just want some functional tools in the garage to help you do regular maintenance, it may help to know more about the automotive tools below.
Garage and Auto Tools:

Air compressor: If you're using impact wrenches and other air tools in the garage, an air compressor will be indispensible. Check to make sure the compressor pressure matches the capacity with your auto tools.

Jack stands: It's not safe to work under a car without auto tools for adequate support. That's where jack stands come in. A heavy-duty jack stand will prop up your car so you can work safely on the under-carriage. Check to be sure your stands are rated for the weight of your vehicle.

Engine hoists and stands: A hoist will allow you to lift the engine out of a vehicle safely. Be sure to check the weight capacity on these auto tools, as well, to be sure they can handle the engines you'll be working with.

Hydraulic hoists: Hoists are designed to lift heavy items in or out of trucks with ease. They can also be used to lift light watercraft in or out of a vehicle or lowered into the water. Most of these auto tools are designed to be mounted to truck beds, garage floors or boat docks.

Ramps: Truck owners can really benefit from having loading ramps. Ramps are ideal for loading low-deck lawn tractors, ATVs and other heavy equipment in and out of your pick-up truck. They can also be invaluable for loading and unloading heavy appliances and building materials.

Roller seats: Roller seats make undercarriage work easier. You can just slide around underneath the car easily as you work. Some rollers also have trays or pouches for wrenches and other automotive tools.

Workstations: A workbench or a mobile tool station can both be great garage workstations. You may want to use a tool cabinet or create your own workspace with custom storage for auto tools and car components.

Buy Auto Tools
Back to Guides Directory