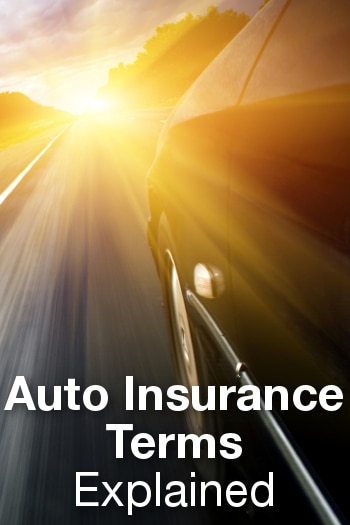 SHOP CARS NOW >>
Whether you have a new car or a used car, you need auto insurance, but shopping for it can be confusing. You may be switching to a different insurance company to save money or to get better coverage, or you may be shopping for coverage for a new car. Whatever your situation, don't worry about getting bogged down in all the jargon. This auto insurance glossary will arm you the knowledge you'll need to understand auto-insurance speak, but in layman's terms.
Common Insurance Terms:

Insurance provider: The insurance provider is the company or person you are purchasing insurance from. This company or person handles any auto insurance concerns you have.

Liability: Think of the word liable as responsible. Liability coverage refers to the amount of money your insurance company will pay to injured parties when an auto mishap is your fault. Drivers in the U.S. are required to have liability insurance, although the amount of liability coverage required varies from state to state. Check out your state's requirements.

Coverage: The term "coverage" refers to what types of injury and property damage an insurance company will pay for and how much they will pay. How much your insurance provider covers can make a huge difference in how much money you have to pay out of pocket. The better your coverage, the less you are responsible to pay for in an accident.

Collision coverage: This insurance covers the damages done to your car when you're in an automobile collision.

Comprehensive coverage: This coverage pays for damages due to events other than collisions. Things like hail storms, a tree branch that falls onto your car, or someone slitting your tires would be covered by this insurance.

Deductible: In your insurance plan, the deductible is what you agree to pay before the insurance provider steps in and pays the rest. The lower your deductible, the less you have to pay out of pocket for repairs. Let's say you agreed on a $1000 deductible and have $3000 worth of damage coverage on your auto insurance plan. If you got into an accident where $3000 worth of damage was done, you would pay $1000 and the insurance company would pay the remaining $2000.

Totaled: If the estimated repair costs on a vehicle are higher than the total value of the car, then a vehicle is considered totaled. At this point, if the damage is covered by your insurance, you can put the value of your old car toward a new one, and your old car will be salvaged.

Shop New & Used Cars
Shop Auto Emergency Supplies
Shop All Garage & Automotive
See All Guides
Get More Online Shopping Tips
Learn More about Insurance
Published June 16, 2011
Updated February 18, 2015