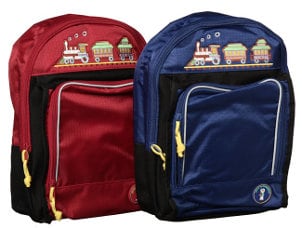 Carrying homework and books to school isn't the only thing your children's backpacks can do. These kids' bags, like their adult-sized counterparts, are extremely versatile. Kids' backpacks can carry clothes, toys and hiking and camping supplies, and they're the perfect kids' bags for all these jobs because they are sized to your child's height and strength. Keep reading to discover how your kids can use their children's backpacks outside of school.
Uses for Children's Backpacks:

Use them as carry-on luggage. Kids' backpacks make great carry-on luggage: They're usually smaller than the airline size and weight limits, and they're unique to your child. Fill these small backpacks with all the supplies your child needs to stay comfortable and entertained on long flights, such as books, hand-held games and small snacks. Travel pillows and a favorite blanket will comfort small children when they've been sitting too long. Make sure to pack a change of clothes in your boy's backpack in case of emergencies or if anything happens to his kids' luggage in the cargo hold.

Use them as toy bags for road trips. Just like kids need entertainment on a plane, they need it in the backseat of the family car during vacations and road trips, too. Backpacks, especially small kids' backpacks, make great toy bags to take in the car. Fill the bags with coloring books and crayons, MP3 players and headphones, and small toys and action figures for children to play with. Their kids' luggage will probably be in the trunk, so there's no need to pack a change of clothes in your boys' or girls' backpacks on road trips, but they may still want the blankets, pillows and snacks for long rides in the car.

Use them as grab bags for field trips and play dates. The best backpacks work just as well for short trips from home, like play dates or field trips with Mom. Take your child to the library with her girls' backpack to make sure she doesn't bring home more books than she can carry. Your son can use his boys' backpack to take the toys he got for his birthday to a friend's house for the afternoon. For a field trip to the beach or park, kids' backpacks are perfect for carrying sand buckets and trowels or soccer balls and Frisbees.

Use backpacks when hiking and camping. Kids' backpacks make fantastic hiking backpacks for young outdoor lovers. Kids can help carry water bottles, sunscreen, their camera and batteries and a paper-sack lunch for a fun day out on the trail. The small size and capacity of kids' hiking backpacks will help prevent you from packing them too full. The best backpacks for your children will be easy to carry and fun to use in a variety of situations.

Buy Kids' Backpacks
Back to Guides Directory