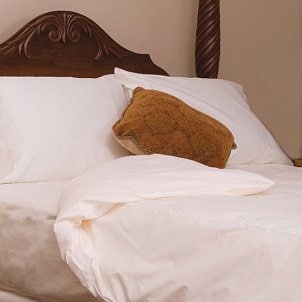 A good night's sleep is essential for daily performance and overall health, but it can be difficult to attain when you have allergies. If you have trouble sleeping and you're not sure why or if you have a known dust-mite allergy or pet allergy, Allergy Control bedding could make a world of difference in how you sleep at night.
Why Buy Allergy Control Bedding:

Allergy Control allergy bedding is scientifically proven to work. Allergy Control bedding has been used in more scientific tests than any other allergy bedding, and for more than 30 years, physicians have been recommending Allergy Control allergy bedding as the top allergy relief bedding available.

Allergy Control bedding helps reduce dust-mite allergy symptoms. Dust mites are tiny arachnids that feed on dead skin and thrive in humid environments, which makes your mattress and bedding an ideal home for the critters. They don't bite, but they do leave droppings that are responsible for dust-mite allergies. Allergy Control allergy encasings completely covers your mattress and comforter, reducing the number of dust mites in your bedding and shielding you from the dust mites.

Allergy Control allergy bedding prevents mold. Mold can easily form in your bedding, especially in foam mattresses, mattress toppers, and pillows. Allergy Control Pristine Complete allergy bedding with an antimicrobial finish will protect your bedding from mold spores, which will in turn protect you from mold allergies.

Allergy Control allergy bedding blocks pet dander. If you're having trouble treating dog allergies or you want to reduce cat allergies, then Allergy Control allergy bedding can make a big difference. Even if you don't let pets into your bedroom, pet dander can naturally accumulate in bedding and mattresses. Allergy Control Cotton Performance and Pristine Complete allergy bedding both prevents dander from getting into your bedding and shields you from any dander that might already be there.

Allergy Control allergy bedding features top-quality construction and long-term warranties. Allergy control uses only the finest materials, like high-quality zippers and fabrics, and then uses bound seams, zipper flaps, and first-rate quality control to ensure that their products will last. In fact, Allergy Control is so confident in the quality of their products that they offer long-term warranties on their complete line of allergy bedding.

Allergy Control allergy bedding comes in different sizes and materials to fit your bed and your needs. Allergy Control allergy encasings come in all the standard bedding sizes, from twin to California king. Also, to ensure that you can find allergy bedding that's just right for your home, Allergy Control offers four different product lines, each of which features a unique material:

Allergy Control Product Lines:

Cotton Performance bed encasings: This Allergy Control line features the ultimate combination of comfort and allergy protection. Constructed from eco-friendly, renewable-resource 100 percent cotton with a 3.6-micron pore size, the Cotton Performance line gives you the luxury of 100 percent cotton with allergy protection that you usually only find in synthetic materials.

Pristine Complete bed encasings: Allergy Control's Pristine Complete products offer the ultimate in allergy protection in a comfortable, synthetic microfiber material. If you are interested in maximum allergy protection, then the Pristine Complete line, with its 2.4-micron pore size, Oeko Tex certification, and antimicrobial finish, may be perfect for you.

Cotton Pure bed encasings: Cotton Pure allergy bedding features a great balance between price and performance. The Cotton Pure line is constructed from the same eco-friendly, renewable resource 100 percent cotton as the Cotton Performance line, but features a less-dense weave and lower prices, perfect if you are only allergic to dust mites or want a great deal on allergy bedding for guest bedrooms.

Micro Protection bed encasings: Allergy Control Micro Protection allergy bedding features traditional allergy bedding materials -- a waterproof vinyl membrane covered by a breathable fabric. While not as comfortable as more breathable bedding covers, Micro Protection encasings offer a great price and are great for children's bed or beds used by incontinent sleepers.
What Do You Want to Do Next?

Shop for Allergy Control Bedding
Shop for Hypoallergenic Bedding
See All Bedding
See All Guides
Read More Bedding Guides
Get More Bedding Tips