Advantages of Owning a Pot Filler Faucet
by Chandler Warnick
A common fixture in restaurant kitchens, pot fillers are becoming more and more common in home kitchens because they are so practical and attractive. You can find both deck-mount pot filler faucets, which mount on the countertop like a regular kitchen faucet, and wall-mount pot fillers, both of which install near the stove and have articulated arms that fold out over the stove when you want to fill a pot and fold neatly against the wall when not in use. If you're not sure whether or not you're interested in a kitchen-pot filler, keep reading for information on the advantages of owning a pot filler faucet.
Pot Filler Faucet Advantages: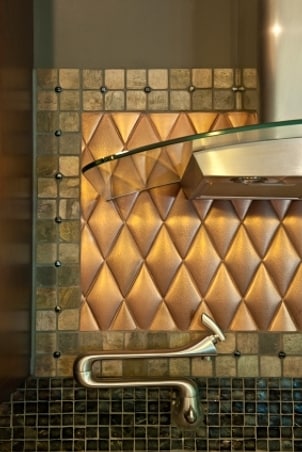 Shop Kitchen Faucets ▸
A pot filler reduces strain on your body.

Water weighs more than 8 pounds a gallon, so when you fill up a large pot and carry it to the stove, you may be carrying 20 pounds or more. When you have a pot filler faucet, you only carry the pot to the stove and then fill it on the stove. Also, a pot filler not only saves you from carrying that weight, which can be a strain on your arms and wrists, but it also saves you from leaning over the sink and pulling out a heavy pot of water, which can be a significant strain on the lower back.

A pot filler saves time when you cook.

Cooking quickly or well requires multitasking, and a kitchen-pot filler is a great way to increase your ability to multitask in the kitchen. With a kitchen-pot filler, you can fill pots right at the stove, freeing up your kitchen faucet and sink for cleaning vegetables or rinsing pasta or even filling another pot at the same time. This means that you will not only be able to save time by filling pots with your pot filler and working at the sink at the same time, but you can also tackle delicious dishes that require you to be able to work quickly.

A pot filler adds style to your kitchen.

The ideal kitchen has appliances and fixtures that not only add utility, but also beauty to the room. The right sink and faucet in your kitchen, for example, can withstand the rigors of daily use, but it also adds a touch of elegance to your kitchen. Like a regular kitchen faucet, pot filler faucets are highly practical as well as attractive. If you're looking for a way to add to the look of your kitchen, a pot filler faucet can give your kitchen a look that says that you're serious about cooking while at the same time adding a classy touch of bronze or chrome that complements the other fixtures in your kitchen.