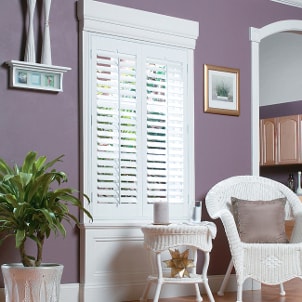 With so many choices of window treatments available, you may not be sure which to choose. Blinds and shades have been popular window treatments for a number of years, but window shutters becoming more and more popular. Once you you have considered these advantages of installing shutters, you may want to choose them as the new way to dress up your windows.
Advantages of Window Shutters:

You can increase the energy efficiency of your home by installing interior window shutters. Adding a strong wooden layer to your window coverings is like adding another layer of insulation to your home. The wide louvers, or slats, of plantation shutters help maintain desired room conditions. Wood shutters look beautiful on any window but are especially good window treatments for houses with old, single-pane windows or large picture windows, both of which can let out a lot of heat in the winter or cool air in the summer without the right window treatment.

Shutters can increase the value of a home. Interior window shutters complement any decor with their crisp, clean lines, meaning they add visual appeal and functionality to the windows of your home. In fact, interior shutters are the only window treatment considered a capital home improvement by the IRS. While this may be due in part to the energy efficiency of interior shutters, you can earn home equity or raise the price of your home by installing shutters.

Wood shutters are quiet when a breeze blows through an open window. Vinyl blinds move about and whistle with the breeze, while curtains can blow into the room and get in the way; shutters quietly stay in place.

They are durable and easy to maintain. Blinds and curtains can be difficult to clean and can harbor dust mites, while shutters are very easy to maintain with a simple damp cloth. Wood shutters also tend to resist moisture, rot, cracking, and warping. Look for shutters with extended or lifetime warranties for a window treatment that will never let you down.

Shutters allow better privacy, light and air control. Blinds and shutters vary in their ability to control the light and air flow in a room, as well as maintain privacy conditions. Traditional shutters are more adjustable than blinds, letting in air but not light or light but not air. Your control of air flow and ambient lighting depends on the window being open or closed and the angle of the slats. Angle the louvers upward to allow natural light into the room without being overwhelmed by it or making glare on the TV. Angling them down will help bring cool air into the room without letting in much light or giving up your privacy.

Like blinds and drapes, shutters offer plenty of variety. Cafe shutters only cover the lower half of a window, so you get plenty of natural light in the room but still maintain some privacy; these often appear in kitchens and cozy breakfast nooks. Traditional shutters use small slats, usually less than an inch wide, to create a classic look. Plantation shutters employ wide louvers, up to three or four inches, for a distinct fashion statement.

Buy Window Treatments
Back to Guides Directory