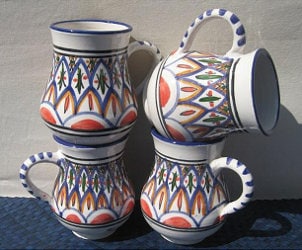 There are many reasons to buy Worldstock products, from saving money to buying in bulk. With Worldstock products, you'll find even more benefits, including fair-trade shopping and carbon neutral shipping, when you buy unique artisan-made products from countries from every corner of the world. Learn more about the benefits of buying products from Worldstock.
Benefits of Worldstock Products:

Savings: Whether you're buying Worldstock products for your business or to stock up on birthday gifts, you'll save more when you buy bulk. Worldstock items are often priced lower than retail individual items, so you'll pay less than if you bought them individually.

Unusual products: Worldstock items are made by artisans throughout the world. Many of the designs are handmade and typically demonstrate a traditional craft from these artisans' countries and communities. This gives you a truly unusual product. Even when you buy in bulk, each item will be a one-of-a-kind handmade piece. These artisan-made products are exclusive, quality designs that can't be replicated in mass-produced products.

Resale: Many Worldstock products ares designed for resale, and you can do just that with these items. When you buy in bulk, you'll have plenty for your customers to choose from, and the one-of-a-kind nature of Worldstock products gives your customers more options. Since these items are priced by the pack, case or set, it's easier to afford buying large amounts for resale.

Supporting fair trade: Worldstock Fair Trade gives as much money as possible back to the craftsmen and women creating the products, enabling them to support their families and business. In addition, the profit made from the sale of these products is donated to Solace International to further aid underdeveloped artisan communities. By purchasing Worldstock artisan products, you are supporting fair trade throughout the world and helping to further charity work across the globe.

Sustainability: Fair trade focuses on sustainability and eco-friendly products. Many of the products available at Worldstock are made from recycled, sustainable and organic materials. In addition, buying in bulk reduces shipping emissions, since all your products arrive in one shipment. Worldstock offers carbon neutral shipping through a partnership with Carbonfund.org to counterbalance the environmental effects of retail shipping.

Buy Worldstock Fair Trade
Back to Guides Directory